This Raw Chocolate Mousse is lusicous, creamy and a 'guilt-free' treat (though I don't think any treats should induce guilt!). It doesn't contain any sugar (other than those naturally present in the coconut 'meat') but is still really delicious!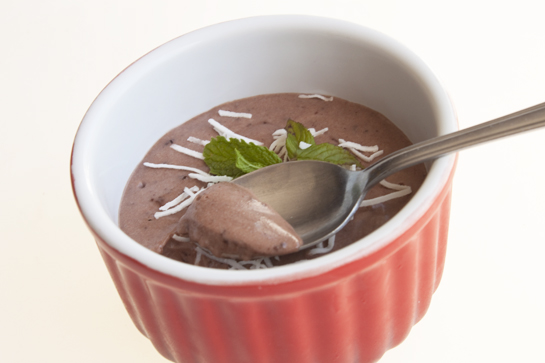 Recipe: 2 Ingredient Raw Chocolate Mousse

Allergen info/recipe info: This recipe is dairy-free, gluten-free, egg-free and sugar-free.

I found the mousse was sweet enough for my taste without any sugar added in it, as coconut cream I find naturally as a sweet taste. However if you find that is isn't sweet enough for you, try adding

Makes: 1 serve

Ingredients:

1/2 – 1 Tbsp. cacao powder (or carob powder), sifted (I found about 1/2 Tbsp was good for me, but you may like a much stronger chocolately taste so feel free to increase it to your linking) or for those who are sensitive to caffeine try using carob powder
optional extras: dried shredded coconut, cacao nibs, walnuts, pitted cherries, sliced strawberries etc.

How to:

Make the coconut cream (or use store bought coconut cream).
Mix in the cacao powder into the coconut cream until smooth and creamy (you can can blend it in a blender or food processor for a really creamy consistency).
Pour into a container and chill in the fridge until firm.
Add any optional extras on top of the mousse.
Enjoy!

Variations:

Raw Cherry Chocolate Mousse: At step 2 add in a few pitted cherries along with the cacao powder and coconut cream and blend in until smooth and creamy.

Raw Peppermint Chocolate Mousse: At step 2 add 2 or 3 fresh mint leaves along with the cacao powder and coconut cream and blend in until smooth and creamy. You might like to use Chocolate Mint leaves instead of regular mint varieties.

Raw Dark Chocolate Mousse: At step 2 add an extra tablespoon of cacao powder and follow the rest of the instructions above.

Raw Carob Mousse: Follow the directions as above and use carob powder instead of cacao powder.

© Copyright: 2009-2012 Michelle Robson-Garth. Please ask permission first when using any text or images on healthfoodlover.com. See the disclaimer here. Have a look at the recipe index for more health food lovin' recipes. Join the Facebook page & follow Health Food Lover on twitter.