For the past few months I have begun a little adventure into growing my own medicinal herbal plants. I feel like I've learnt a lot through this process. The one's that have survived the best has been calendula, also known as marigold (Calendula officinalis). They are really easy to grow. I grew them from seeds towards the end of winter and eventually I planted them in a large-ish planting box and now they are thriving. I have about 6 or so calendula plants. I'm looking forward to them flowering later on. A few of the other plants I have in my garden include raspberry plants, comfrey, chamomile (no flowers yet), garlic and an elder flower/berry tree.
I was quite inspired in India seeing all the plants they grew, including withania. I'm quite interested in growing withania because it is such a loved herb among herbalists and naturopaths. I would be so happy to have my own home-grown supply of it.
I've sourced my medicinal seeds from a few places including Horizon Herbs (US), Eden Seeds and Beauticanicals, the latter two of which are in Australia. I'm now in my second round of attempting to grow withania (Withania somniferia), the 'vedic type', with seeds from Horizon Herbs. My first attempt in growing it, I grew them in a heated seed box and I was able to germinate a few, sadly they died. Maybe it was a little too hot in there for them. On the 3rd of October I sowed some more, this time out of about 7 small pots, only one seed has germinated. I think I put 2-3 seeds in each pot.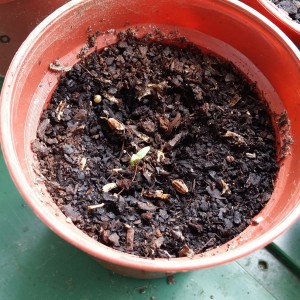 Tiny little withania seedlings
So now my plan is to keep it happy and thriving. According to the seed packet for my withania seeds, from Horizon Herbs, here is how they should be grown:
On the Horizon Herbs website they suggest growing it as an annual and growing it for 200 days to develop the medicinal roots.
How I'm growing Withania:
With the little seedling I have above, I've put it near a windowsill and i'm giving it a spray of water everyday. It took about 17 days to germinate one little seedling, hopefully the others will follow.
Here is some information on growing withania:
Germination rate:
When to sow:
Sow in early spring indoors or in the greenhouse.
Sun:
Soil:
Fast-draining, alkaline (pH 7.5 to 8.0) soil and dryish conditions.  Sweeten regular garden soil with ground limestone.  (Horizon Herbs).
Water:
Planting:
Space 1 foot apart–grows 2 to 3 feet tall, producing eventually the lantern-like pods enclosing the pea-sized fruits, green at first and becoming bright red as the inflated calyx dries and becomes transparent.
Days to harvest:
I would love to know have you ever grown withania or any other medicinal plants?  Please let me know in the comment box below and share your experiences.