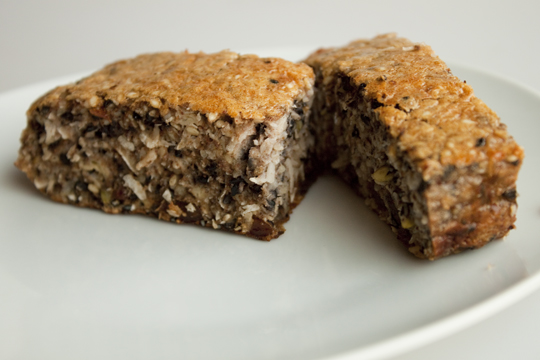 Here is a delicious nut and seed banana bar recipe. They are gluten-free, refined sugar-free, dairy-free, grain-free, paleo and WAPF-friendly. They actually don't contain any 'nuts' in them except coconut (which technically isn't a nut, it is a seed also).
Recipe: Nut & Seed Banana Bars

Allergen info/recipe info:

This recipe is dairy-free, nut-free, gluten-free, sugar-free, grain-free, flour-free, vegetarian and Paleo and Wapf-friendly.

This recipe does contain eggs.

WAPF-Friendly: to make this WAPF-friendly you can soak the pepitas and sesame seeds for a few hours before hand and them drain the water away and dry the seeds. You could also sprout the seeds as well.

Ingredients:

1 ripe banana
4 eggs (best from pasture-fed chickens)
2 tbs. chia seeds
1 tbs. pepitas
1 tbs. black sesame seeds
3 tbs. white sesame seeds
2 tbs. sultanas
3 tbs. coconut
2 tbs. raw local honey
1/2 tsp. cinnamon
melted butter or coconut oil to grease & baking paper.

How to:

Mash the banana and add it to a bowl. Beat the eggs and mix them into the banana. Mix until throughly combined.
Pre-heat the oven to 150 degrees C (fan-forced).
Add the chia seeds, peptias, black sesame seeds, white sesame seeds, sultanas, coconut, honey and cinnamon. Mix to combine.
Line a rectangle baking tin with baking paper and grease it at butter or coconut oil.
Pour the mixture into the greased tin.
Bake for  25-35 minutes at 150 C (fan-forced) or until set.
When set, leave to cool down then slice into bar shaped pieces.

© Copyright: 2009-2012 Michelle Robson-Garth. Please ask permission first when using any text or images on healthfoodlover.com. See the disclaimer here. Have a look at the recipe index for more health food lovin' recipes. Join the Facebook page & follow Health Food Lover on twitter.