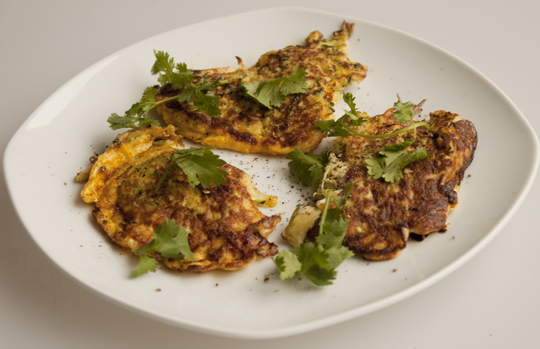 Here is another healthy recipe for those who follow the Paleo Diet or for those who just want a protein rich breakfast.
Recipe: Paleo Zucchini & Goats Cheese Hash Browns

Ingredients:

4 eggs
2-3 zucchini
a few tsp. of chevre goats cheese, crumbled
salt and pepper to taste
butter or coconut oil

How to:

Grate the  zucchinis. Put them in a colander over a bowl and add a tsp or so of salt: this helps draw the water out of the zucchini. Leave this aside for an hour or so (or overnight for the next day).

When ready to cook, squeeze out the water from the zucchini. Add the zucchini to a bowl with 4 whole eggs and mix together. Crumble in some goats cheese. Season to taste.

Add the butter or coconut to a hot pan. Spoon out the mixture and cook on both sides until cooked.

Enjoy!

© Copyright: 2009-2012 Michelle Robson-Garth. Please ask permission first when using any text or images on healthfoodlover.com. See the disclaimer here. Have a look at the recipe index for more health food lovin' recipes. Join the Facebook page & follow Health Food Lover on twitter.