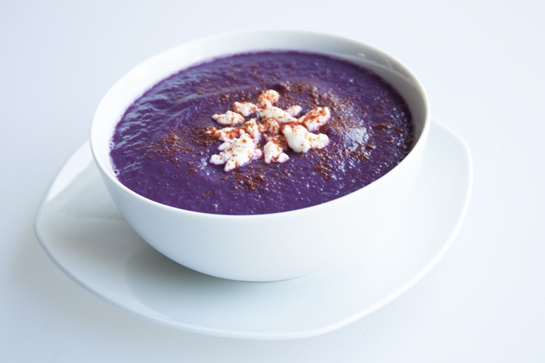 Here is a delicious savoury recipe to serve to your loved one (or just make for yourself) on valentine's day. What we eat affects not only our general health, but the food we eat also affects our reproductive systems and how sexy we feel. When we eat well and power-up our diet with lots of variety and a mix of good quality animal products (or a well balanced vegetarian diet, if thats your thing) and fresh fruit and veggies we supply our mind and body with what it needs to be happy and healthy in so many ways. I'm sharing this recipe with you because it is rich in antioxidants and has a hint of chilli and ginger which are traditional tonics for improved circulation, are anti-inflammatory and are also foods that are antioxidant-rich and of course this soup is delicious!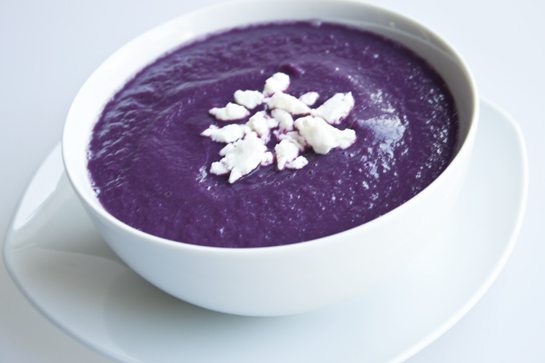 Recipe: Purple Valentine's Day Soup

Ingredients:

1 Tbsp. of non-hydrogenated lard or bacon fat or butter (or coconut oil)
1/2 purple onion, chopped roughly
2 cloves of garlic
2 tsp. ginger
1/2 red chilli
4 purple carrots, ends cut off and carrots chopped roughly
100g of puy lentils (soaked for at least 8 hours in water or use drained canned lentils)
1/3 purple cabbage, sliced thinly
1/2 potato, cut into small cubes: Adding the potatoes into the soup gives it a really creamy texture
water or bone broth (enough to cover the veggies)
salt, to taste
pepper, to taste
chevre goats cheese
cayenne pepper powder or 1 sliced red chilli

How to:

In a large saucepan, melt the lard/bacon/coconut oil. Add the purple onion, garlic and ginger and saute until the onion is soft.
Add the chopped purple carrots, puy lentils, 1/3 of cabbage, 1/2 potato and water and simmer on low until all the vegetables are very soft.  Add salt and pepper to taste.
Then using a blender or a hand held mixer, blend the soup until it is creamy and smooth.
Pour in bowls and serve with a bit of crumbled chevre goats cheese and a sprinkle (or more) of cayenne pepper.
Enjoy!

© Copyright: 2009-2012 Michelle Robson-Garth. Please ask permission first when using any text or images on healthfoodlover.com. Read the disclaimer here. Have a look at the recipe index for more health food lovin' recipes. Join the Facebook page & follow Health Food Lover on twitter.