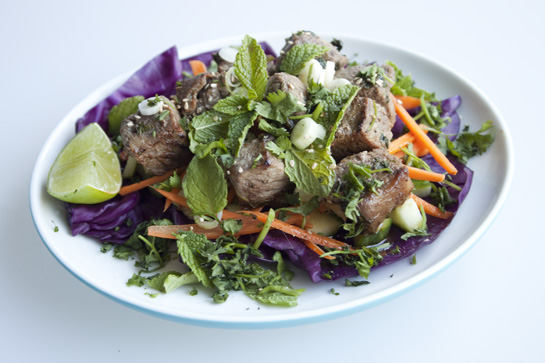 Here is a delicious and fresh thai beef salad recipe.
Recipe: Coconut-Water Marinated Thai Beef Salad on Cabbage Leaves

Allergen info/recipe info: This recipe is dairy-free and gluten free.

Vegan/Vegetarian Options: This recipe can exclude animal products if you use tempeh instead of beef.

Serves: 1 or 2 as an entrée.

Ingredients:

The Coconut Marinade:

1 porterhouse steak, cut into chunks or long strips (depending on what you like) OR use tempeh instead
1/2 lime, juiced
a dash of tamari* (tamari is a wheat-free soy sauce)
a dash of toasted sesame seed oil
a dash of fish sauce
3 Tbs. fresh coconut water (from a young coconut)
1/2 tsp. mashed ginger
fresh coriander leaves
fresh mint leaves
fresh red or green chilli, finely sliced  to taste
1/4 teaspoon salt
freshly ground pepper
coconut oil

To make the salad:

1 or 2 cabbage leaves
1/2-1/2 fresh red onion, peeled and finely sliced
1/2 cucumber, cut into cubes
1 carrot, sliced into matchsticks
extra mint leaves
extra coriander leaves
2 spring onions, finely sliced (white part only)
sesame seeds
a bit of extra virgin olive oil
salt and pepper to taste

*If you prefer not to include tamari (a kind of soy sauce) that is fine, just add some extra coconut water.

How to:

Make the marinade by combining all the marinade ingredients. Then add the meat to the marinade, cover it and leave it in the fridge for a few hours. After it's marinated cook the beef. While it's cooking, prepare the salad by putting the cabbage leaves on a plate, add the red onion, cucumber, carrot, mint, coriander leaves and sesame seeds. When the meat is cooked add it to the salad and drizzle it with a bit of extra virgin olive oil and season with salt and pepper to taste.

© Copyright: 2009-2012 Michelle Robson-Garth. Please ask permission first when using any text or images on healthfoodlover.com. See the disclaimer here. Have a look at the recipe index for more health food lovin' recipes. Join the Facebook page & follow Health Food Lover on twitter.