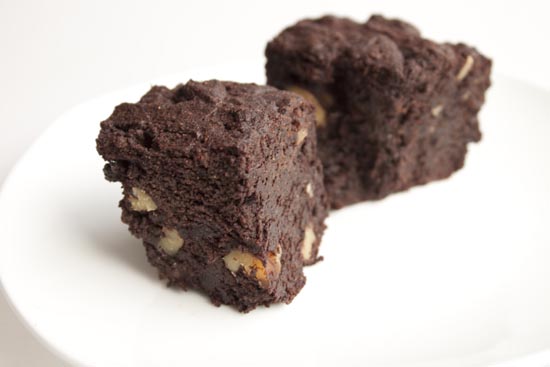 I've finally finished exams for the year, so time for a treat!
Recipe: Chocolate & Walnut Essene Brownies (Sprouted Grain Brownies)

Allergen info/Recipe info:

This recipe contains, eggs, dairy and gluten, so is not suitable for those sensitive to any of those.
Carob is much less stimulating than cacao/cocoa (Cacao contains caffeine, which is a nervous system stimulant and has the potential to be too stimulating. It also contains theobromine which also acts on the nervous system) and is more suitable for children. Carob is free of caffeine.
This recipe is not suitable for those on a weight-loss diet, calorie-controlled diet or those who are diabetic.
This is definitely once-in-a-blue moon type treats, so I wouldn't be having this every day. But there is nothing wrong with making a healthy treat every once in a while!

Serves: Makes around 6-8 pieces depending on size of brownie.

Ingredients:

90g dried sprouted grains (I used organic & biodynamic wheat grains) (how to sprout grains)
80g cacao/cocoa or carob, sifted
a pinch of salt
150g coconut sugar
4 eggs (best from free range chooks- i.e. not caged chickens)
1 tsp. vanilla extract
100g butter (best organic, from grass-fed cows) (or use ghee, or coconut oil)
100g organic dark or milk chocolate (I like Cocolo chocolate as it uses rapadura sugar!)
~80 or so of walnuts (or another nut, seed or dried fruit that you like)

How to:

Pre-heat the oven to 150 degrees C. Prepare your baking pan (I just used a shallow-ish rectangle pan), by greasing a large piece of baking paper (larger than your baking pan) and then fit it into your tin.
Grind the sprouted dried grains until they resemble a very fine flour. I used a coffee grinder to get a really fine texture. Put this in a bowl.
Stir in the cocoa or carob powder and the salt.  Add to the bowl.
Whisk the eggs together until they are thick and well beaten.
Grind the coconut sugar until it is very fine (it can often be a bit grainy). Whisk the sugar into the the eggs. Add the vanilla.
Melt the butter and chocolate together over a double boiler (a larger bowl over a small pot of boiling water) until melted. Leave to cool for a few minutes.
Alternate quickly whisking the melted chocolate and the eggs into the dry ingredients until the ingredients are all in the bowl. Mix it until it is a smooth consistency.
Stir the walnuts or other any extra add-ins you would like in the brownies. Pour the mixture into the lined tin.
Bake these brownies (in the middle rack in the oven) at 150 C for 40-50 minutes or until a skewer or toothpick comes out clean.
Enjoy!