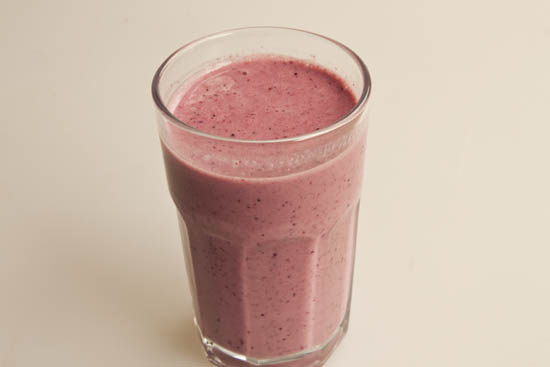 In herbal medicine, Nettle (Urtica dioica) is used for it's nutritive properties (it's rich in many nutrients) and depurative (blood-purifying) actions, among it's other uses (1). The nutrients in nettle leaf include: Vitamin A, C, beta-carotene, calcium, potassium, phosphorous, chlorophyll, magnesium, tannins, flavonoids, sterols and amines (2).
Nettle can also be used as a food and is commonly added to soups and stews.
In this recipe, I used a cold nettle infusion. To make the infusion, add 1-2 tsp. of dried nettle leaf (I got my nettle from Southern Light Herbs) to around one cup of hot water in a clean glass lidded jar and leave to infuse overnight. You can put it in the fridge to chill, if you like. In the morning, a bright green tea will be produced! You can strain the leaves out of the tea, or leave them in for added nutrients (your smoothie will be a green one if you leave the leafy bits in).
How does this smoothie taste? I find it tastes like a normal berry smoothie with a hint of green-tea-like flavour.
Recipe: Nettle and Berry Smoothie

Allergen info: In susceptible individuals, nettle may cause an allergic reaction. Those who are allergic to nettle stings should not apply it topically (1). This recipe contains dairy.

Serves: 1 serve (double or triple etc the ingredients for more serves)

Ingredients:

1 c. of cold organic nettle leaf tea
~ handful of frozen berries of your choice
~1/4 C. of milk of your choice (dairy, coconut, almond etc)
2 Tbs. of yoghurt with live cultures (or kefir etc)
1 tsp. LSA (linseed, sunflower and almonds, ground)

How to:

Blend until smooth and enjoy chilled.
References:
Kerry B, 2003, 'A clincial guide to blending liquid herbs: herbal formulations for the indivdual patient', (pp. 343) Elsevier, USA.
Braun L, Cohen M, 2010, 'Herbs and natural supplements: An evidence-based guide', 3rd Edition, (pp. 877) Churchill/Livingstone Elsevier, Australia & US Department of Agriculture 2003.   
Please note: herbal medicine, even in the form of tea, may affect those on certain drugs, medications, those with certain illnesses or pregnancy, so it is best to seek advice from your health professional when unsure.
© Copyright: 2011 Michelle Robson-Garth. Please ask permission first when using any text or images on healthfoodlover.com . See the disclaimer here. Have a look at the recipe index for more health food lovin' recipes.