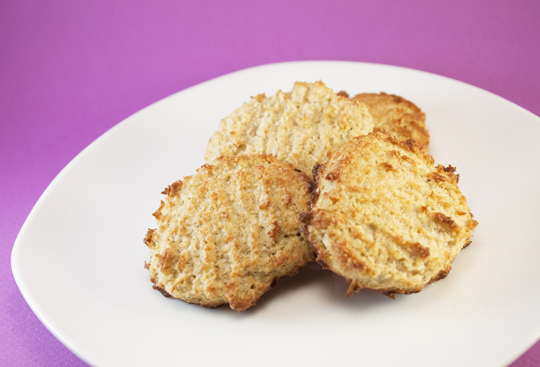 I love coconut! And I know many of you do too, so here is a delicious treaty coconut cookie recipe for you, my dear Health Food Lovers! This recipe is dairy-free, gluten-free, and paleo-friendly.
You can find coconut (it's botanical name is Cocos nucifera) in a few forms: some you may be aware of, others may be new to you. These forms include the mature (green) coconuts, young coconuts, coconut milk, coconut cream (click the link to learn how to make it), dried coconut (of various kinds (shredded, desiccated etc); when you can it's best to get coconut that is preservative free), coconut oil and coconut butter.
Why might you include coconut in your diet?
Coconut contains Medium Chain Fatty Acids which are easily digestible fats.
Coconut contains Lauric acid which has anti-microbial properties. (Lauric acid is also found in breast milk as well)
Coconut oil is quite a stable fat and is much less susceptible to becoming rancid (which is a problem with polyunsaturated fatty acids (PUFA)). This means it can be used in higher temp cooking without the high risk of oxidizing as PUFAs have. However with any kind of fat, cooking it at very high temperatures is best avoided and more gentler methods of cooking such as steaming and slow cooking are favourable on our digestion as well as the health of the fats in our foods and the fats we add to our foods.
It is a vegetarian and vegan alternative to butter and ghee.
Some other reasons why I love coconut:
It is a fantastic moisturiser! I sometimes use it at night as I find it doesn't leave my skin feeling oily and it absorbs into my skin quite well. It also will make your skin smell delicious!
It adds a subtle coconut taste to your cooking which you can take benefit of in certain styles of cooking such as South Asian recipes.
When using the meat of young thai coconuts, it can lend a fudge-y texture to smoothies and mousse-like concoctions (such as in my recipe for raw vegan chocolate mousse & my recipe for mango custard).
Coconut water: it's oh-so-delicious!
References:
Know Your Fats: The Complete Primer For Understanding the Nutrition of Fats, Oils and Cholesterol by Mary G. Enig, Ph.D
Now onto the recipe…!
Recipe: Cinnamon, Rosewater and Vanilla Coconut Cookies
Allergy info/recipe info: Makes 10+ cookies (depending on size and thickness etc.).
This recipe is dairy-free and gluten-free, and paleo-friendly.
You will need:
1.5 C. dried coconut (I used a mix of shredded coconut & desiccated coconut)
1 tsp. cinnamon powder
~1/4-1/8 C. Stevia (or to taste) (I used the Natvia brand) (or another natural sweetener such as rapadura sugar or coconut sugar)
2 eggs separated into (2 egg whites & 2 egg yolks)
a pinch of salt
1/2 tsp. rosewater (not essence)
1 tsp. vanilla extract/1 tsp. vanilla bean paste/seeds of 1 scraped vanilla bean (I used vanilla bean paste)
coconut oil (or butter) to grease the tray
How to:
Pre-heat the oven to 160 degrees °C (320°F) (my oven was fan-forced).
In a bowl combine the dried coconut, cinnamon and stevia and give it a stir.
Separate the eggs & leave them to come to room temp. Put the egg yolks aside in a bowl to use later. Now take your egg whites, add a pinch of salt and using an electric mixer (or a whisk!) beat the egg whites until they are opaque, thick and firm peaks have formed. Gently stir in rosewater and vanilla extract.
In three batches, gently fold in the the coconut-cinnamon mixture until it is all combined in the beaten egg whites.
Beat the egg yolks and then stir it into the cookie mixture.
Grease a piece of a parchment paper and place it on an oven tray. Take about a tablespoon worth of mixture and using your hands form it into a ball. Put it on the parchment paper, take a fork and gently flatten it. Continue that with the rest of the mixture.
Place in the middle rack of the oven and bake for around 10-15 minutes or until they are lightly browned.
Enjoy (the most important step!).
For some more coconut goodness, check out these recipes & posts:
How to make your own coconut cream!
How to Open a Thai Young Coconut