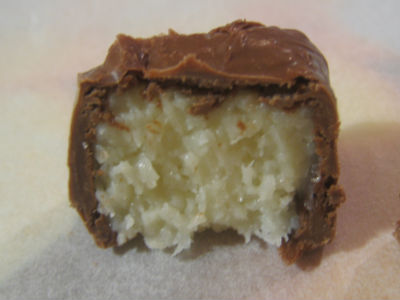 Now here is another treaty recipe, just healthified. This time I have made a recipe for Healthier
Homemade Cherry Ripe
made with
real food ingredients
 (no artificial colours, sugars, flavours) just like
the bounty bars
. This recipe is definitely as good as the commercial cherry ripe if not better! And I have to say it tastes pretty close to it as well!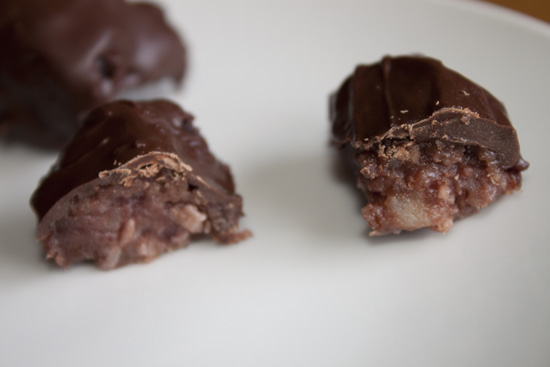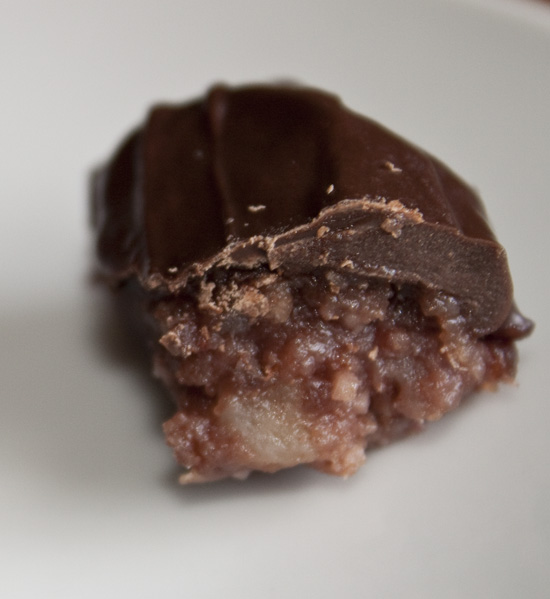 close up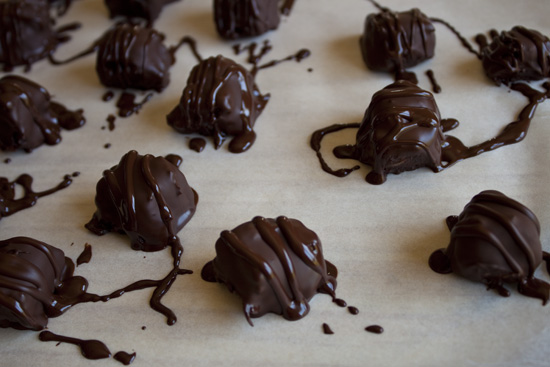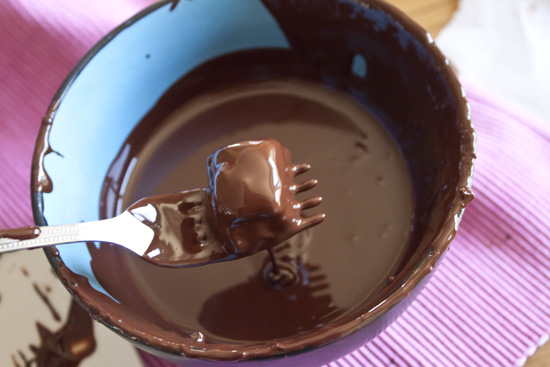 They are really easy to coat: just put the cherry ripe square on a fork, then dip it in chocolate completely…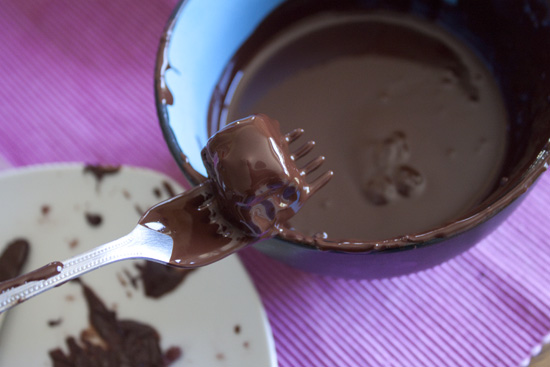 …and then tap the cherry ripe square on the side of the bowl so the  excess chocolate drip backs into it.
Recipe: Healthier Homemade Cherry Ripe

Adapted from this recipe for my homemade bounty bars.

Recipe info/allergen info: This recipe is gluten-free, dairy-free, egg-free and refined sugar free.

Ingredients:

1 C. fresh cherries, washed, chopped and pits removed
1 C. macadamia nuts
1 C. medjool dates, chopped & pits removed
5 Tbs. shredded coconut (preservative-free)
3 Tbs. coconut oil, melted
300-400g dark chocolate* (you can look  for brands such as Cocolo which use rapadura sugar in their chocolate)

How to:

Slice each cherry open and discard the pips.
Put the cherries in a blender or food processor and blend until smooth. Add the macadamia nuts and blend/process until you have a paste. It doesn't have to be completely smooth.
Add the dates and blend until the dates have broken down. Stir in the shredded coconut and melted coconut oil until it has all mixed together.
Pour into a baking paper lined & coconut oil greased tin. Put the mixture into the fridge to chill until set. When they seem like they have set, cut them into small squares and place them in the freezer to harden.
When the squares have hardened, begin tempering the chocolate

as below

.

*you may need more or less depending on how small or big you make the squares: the smaller they are the more chocolate you will need; if they're larger you'll need less chocolate (as you will have less surface to cover).

Tempering Chocolate:

These steps are taken from my homemade bounty bar recipe. 

You Will Need:

a metal bowl (wider than the saucepan)
a smaller bowl, filled with water and ice
a saucepan, filled with 3 cm of water
a metal or plastic spoon (not wooden)
a digital cooking thermometer (optional, but very helpful)
the amount of chocolate you have decided to use (as in the main ingredient section)
baking paper
a flat board (to rest the chocolates on)

How to temper the chocolate:

In a small sauce pan place a few cms of water in the bottom. Get it to a boil and then turn down the heat to a simmer.
Place your metal bowl over the now hot water (and heat turned down to low) and add the dark chocolate. Stir the chocolate with your metal spoon until it melts. Put your thermometer in and make sure it doesn't go above 48 degrees Celsius (118 F).
When it reaches 48 take it off the hot saucepan and put it in your ice water bowl. Keep stirring. Wait till it cools down to 26 degrees.
When it has cooled down, turn your saucepan on again and place your metal bowl over the saucepan, now with the heat on. Put the thermometer into the chocolate and wait till the temperature of the chocolate reaches 48. When it's at that temperature, turn off the heat. Your chocolate is now ready to use!
Simply place your cherry squares into the chocolate with a fork and completely cover it. Tap your fork with the covered cherry square against the side of the bowl so excess chocolate comes off. Then place your chocolates on a lined tray until the chocolates harden!
Once they have hardened keep in the freezer to stay firm. Enjoy these treats!

Tips for tempering chocolate:

Make sure you don't get any water or steam in your chocolate at any stage while tempering. Water= chocolate death!
Use only metal or plastic spoons to stir the chocolate.
If you let your chocolate go over 48 degrees C then its gone- you can't use it any more.
It's a good idea if you have one to use a thermometer to test the temperature when you're heating a cooling the chocolate. I used a digital thermometer.
Having said all that, you don't really need to temper the chocolate– but it does help to coat the cherry ripe squares properly.

© Copyright: 2012 Michelle Robson-Garth. Please ask permission first when using any text or images on healthfoodlover.com. See the disclaimer here. Have a look at the recipe index for more health food lovin' recipes. Join the Facebook page & follow Health Food Lover on twitter.