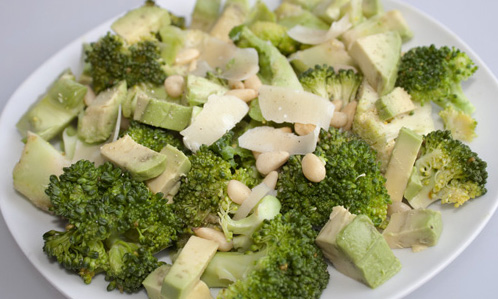 This warm salad is quick, easy, nutritious and tastes delicious!
Here's how to make it:
Recipe: Broccoli, Avocado and Pinenut Salad with Parmigiano Reggiano

Ingredients:

2 heads of broccoli, washed, chopped into florets and stem sliced thinly
lemon juice, to taste
1 tsp. butter or 1 tsp olive oil
1 avocado, peeled, pitted and chopped into cubes
1-2 Tbs. pinenuts
1-2 Tbs. parmigiano reggiano, shaved
salt and pepper, to taste

How to:

Prepare the broccoli by chopping the florets at the stem and also then slicing the stem thinly.
Steam the broccoli until soft and bright green. Whe ready put the broccoli ina bowl. Add the butter until melted, or the olive oil. Add the chopped avocado, pinenuts, shaved parmigiano reggiano and salt and pepper to taste.
Serve with your protein source of your choice (some good protein choices examples: cooked pastured eggs; cooked organic and pastured chicken breast meat; soaked and well cooked lentils etc- all depends on what kind of protein you would like to go with it!).

© Copyright: 2012 Michelle Robson-Garth. Please ask permission first when using any text or images on healthfoodlover.com. See the disclaimer here. Have a look at the recipe index for more health food lovin' recipes. Join the Facebook page & follow Health Food Lover on twitter.