Here is another way to get some delicious veg in your diet.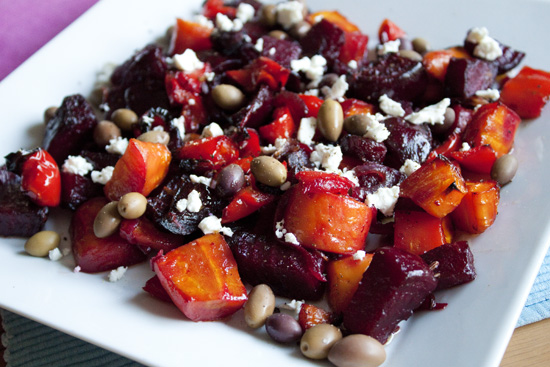 Recipe: Balsamic Roasted Veggies Salad with Fennel Seeds, Feta and Wild Olives

Ingredients:

4 large beetroot, raw
4 carrots, raw
1 red onion
a dash of red balsamic vinegar
1 bit of olive oil
1 tsp. fennel seeds, toasted
full-fat feta cheese, crumbled
wild olives, sliced and pitted*
fresh parsley
salt and pepper

How to:

Boil the beetroots until soft. Cool them down, them peel them and cut into 8ths. Add them to a baking tray along with the carrots, red onion. Add a bit of red balsamic vinegar and olive oil to coat. Cover the baking tray with tin foil. Bake for until the carrots and onions are soft (the beetroot will already be soft because it was boiled earlier). When the vegetables are ready, add the feta cheese, wild olives and fresh parsley in amounts that you like. Season with salt and pepper.

*The olives I used were quite small so I didn't pit or slice them open. If you do the same, just be sure to let your guests know there are pips in them.

Enjoy!

© Copyright: 2012 Michelle Robson-Garth. Please ask permission first when using any text or images on healthfoodlover.com. See the disclaimer here. Have a look at the recipe index for more health food lovin' recipes. Join the Facebook page & follow Health Food Lover on twitter.