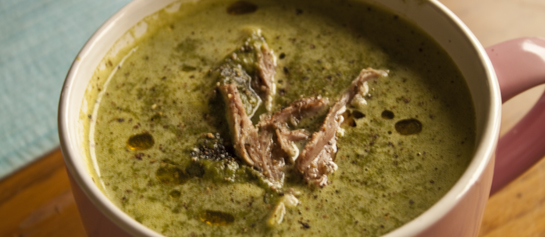 When we want to eat food to make us feel energetic and happy (which is what food should do), we need to stick to whole, real foods. This because our body needs more than just carbohydrates to produce energy. There are many micro-nutrients we need for optimal mitochondrial function (mitochondria are the "energy factories" of our cells). This is why whole foods need to make up the base of the diet (and refined and processed foods are ideally avoided).
Article: How to get more whole and nourishing foods in your diet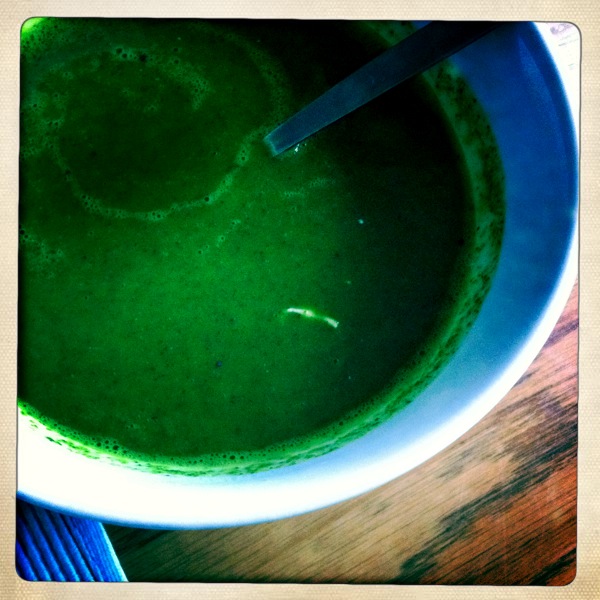 In this Green Energy Soup I cooked the kale for a very short time (until soft but still bright green) and served it with a bit of cream cheese. 
Many of the nutrients in the foods in this recipe are supportive to your mitochondria . These nutrients include magnesium (from the Kale), antioxidants (such as vitamin A from the butter/ghee & beef; vitamin C from kale), vitamin B1, B2, B3, B5, (these B vitamins from the kale, seaweed and beef)  iron (non-heme from kale & heme iron from beef, respectively), cysteine (an amino acid from beef), and manganese (from kale & garlic). Seaweed is also a source of iodine (important for thyroid function), kale contains chlorophyll and ginger has anti-inflammatory properties.
If you haven't seen it watch the video by Terry Wahls and how she overcame her MS by feeding her body well! Inspiring stuff!
Article: How to be time savvy for your health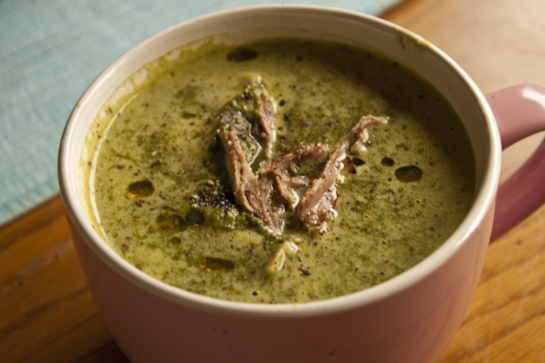 Recipe: Green Energy Soup (A Mitochondria Supporting Recipe)

Allergen info/recipe info: This recipe is gluten-free and dairy-free.

Serves: 2

Ingredients:

coconut oil or butter or ghee
2 onion, peeled and chopped
2 cloves of garlic
2 tsp. fresh ginger
3 potatoes, washed and skin kept on or 3 parsnips or 1/4 – 1/2 cauliflower
a few cups of bone broth (Here is How to make Bone Broth)
2 whole small bunches of kale (stems kept on & bottom end of the bunch cut off), washed and chopped roughly
2 nori sheets (optional)
meat from the bone broth (enough for two people)
a dash of sesame oil
salt and pepper to taste

How to:

In a pot add the oil of choice, the onion garlic and ginger. Cook until the onion is soft and then add the potatoes (or the other veggies listed) and the bone broth and cook with a lid on and the heat set at low until it the potatoes very soft.
Now add the kale and cook for a few minutes or until the kale is very soft but still bright green (I cooked mine a bit longer than I should have which is why in the first picture the colour is a bit more dull than the second picture above).
Add the seaweed sheets and cook for one more minute.
Now in batches add this soup to a blender and blend until smooth.
Serve with a dash of sesame oil, the meat from the bone broth and season to taste with salt and pepper.
Enjoy!