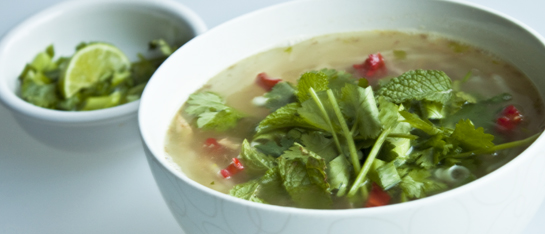 I love soups. They are nourishing, easy to digest, inexpensive,  soothing, delicious and of course nutritious. I have quite a few soupy recipes on this blog such as the Purple Valentine's Day Soup, Seriously Good Sprouted Chickpea Soup and the Herby Veggie Chicken Soup with Quinoa. Soups can be powered with protein, rich in minerals and vitamins, hydrating, and can be a herbal decoction all in one. Not many foods can claim that!
This recipe brings together one of my favourite kinds of soup, Pho (pronounced fir) and the use of bone broth from the meaty bones of grass fed cows. I even mentioned Bone Broth in the post on the many ways to be time savvy for your health! And I have to tell you, the taste of grass fed meat + bone broth is so much more delicious than those of grain-fed cows (and much more nutritious too). However any bones from cows (as used in this recipe) will still work and will still produce a flavourful and nutritious broth. Slowly simmering the bones helps to extract all the goodness from the bones into the water which means we are able to digest and absorb the nutrients from the bones much more readily.
For more on the nutritional content and beneficial effects of consuming bone broth check our Catie Payne's blog post on her blog Head Plant Health.
How To Make Bone Broth

Makes: a whole heap of bone broth!

Bone Broth Ingredients:

1 tbsp. butter
1 kg meaty beef* bones (best: bones from grass-fed cows; better: bones from organic/biodynamic cows; good: bones from a local butcher)
filtered water
a bay leaf
a few peppercorns
a dash of apple cider vinegar
salt
pepper

How to:

Trim the fat (if any off the bones).
In a large stock pot melt the butter and brown the meaty bones.
Add enough water to cover the bones and add the bay leaf and pepper corns along with a dash of apple cider vinegar. You may need to add more water as it slowly cooks.  
Turn the stove down to the lowest possible setting and put a lid on the pot.
Leave to this to cook for 4-5 hours but even longer is better. You can even let it cook for day or two or three (of course turning off the pot before you go to bed and resuming cooking the next day). 
You want the meat to fall of the bones and for the bones to be really brittle when they have cooked long enough.  
You can use a slow cooker to make bone broth as well if it is big enough or you can just make smaller batches.
When the bones have become brittle and the broth tastes good, strain the broth away from the bones and then cool it. When the bones are cool, peel off the meat from the bones and add it back to the bone broth. The benefit in cooling it before you use it is that you can scrape off any fat that solidifiies at the top (if you would like). You can keep the fat and use it instead of butter or coconut oil in your cooking. Just make sure to get the broth to a boil before you eat it to kill an bacteria that has decided to set up house.
 Now you can use it as a base for soups, flavour it with some aromatic herbs and spices or have it as is.
Store it the freezer in a few small zip lock bags for individual portions or in the fridge for a few days in glass containers.

*In this recipe we are using beef bones but you could also make other flavoured broths such as a chicken broth with raw chicken frames or a fish stock with fish heads and bones, for example.

To check how much this this broth 'gels' (an indication of how much collagen/gelatin has come out of the bones) put some of the cooked and cooled broth into a container in the fridge and leave it till it sets. The more gel-like it is the better.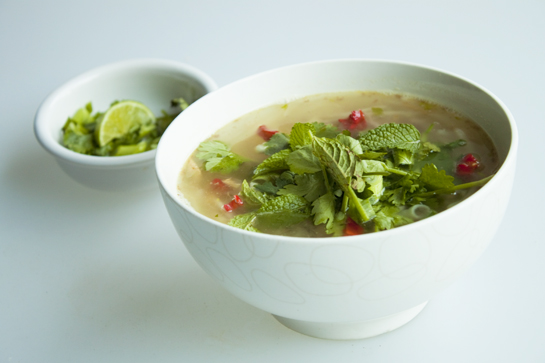 Here is my recipe for Pho using meaty bones from grass fed cows. The secret to a great Pho is flavourful slow-simmered bone broth. The longer you can simmer the bone broth the better. I hope you enjoy this recipe as much as I did! If you make this please let me know how it goes for you.
Recipe: Grass Fed Beef Pho

Serves: 2

Allergen notes/recipe notes: This recipe can be dairy free by replacing the butter with coconut oil. It is egg-free.

It can be made vegetarian/vegan by using vegetable stock instead of bone broth and you could use tempeh instead of the meat in the bone broth.

Grass Fed Beef Pho Ingredients:

1 C. thin rice noodles (or enough for two people)
1 tsp. butter
1 onion
coriander/cilantro, roots and stems (washed & sliced)
1 large garlic clove, crushed
1 tsp. ginger, chopped into small pieces
3 peppercorns
1 star anise
1 bay leaf
4 cups of pre-prepared (see above) grass-fed bone broth (with as much meat from the bones as possible)
a dash of fish sauce
1 cup bean shoots, rinsed
fresh coriander leaves, roughly chopped
a few spring onions, washed and finely sliced into rounds
a few mint leaves
a fresh red chilli, sliced (to taste)
1/2 lime, quatered, to serve
salt and pepper (to taste)

How to:

Cook the rice noodles according to the package instructions. Set aside.

In a saucepan, cook the onion in butter with the coriander roots and stems, crushed garlic clove, chopped ginger, peppercorns, the star anise and the bay leaf. Cook until the onion is soft.  Add the four cups of grass-fed bone broth + meat and simmer for 10-15 minutes. When ready to serve: add the noodles to two bowls. Pour over the bone broth add a dash of fish sauce, the bean shoots (divided between bowls), the fresh coriander leaves, spring onions, mint leaves and fresh red chilli slices. Season with salt and pepper and serve with a wedge of lime.

© Copyright: 2009-2012 Michelle Robson-Garth. Please ask permission first when using any text or images on healthfoodlover.com. Read the disclaimer here. Have a look at the recipe index for more health food lovin' recipes. Join the Facebook page & follow Health Food Lover on twitter.