Here is a quick and easy ice cream recipe (see the raspberry version here)  which uses fruit as a base instead of cream, sugar and eggs. I hope you like it!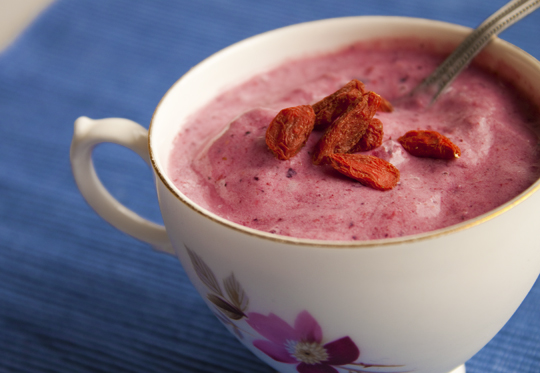 Recipe: Berry and Banana Soft Serve

Recipe info/allergen info: This is gluten-free and can be made dairy-free if using dairy-free milk.

Serves: Makes one serve.

Ingredients:

1/4-1/2 C. milk (any kind you like: full fat dairy, coconut milk etc)
1 tsp. chia seeds
a handful or so of frozen mixed berries
a few slices of fresh banana

How to:

 Blend milk and chia seeds.
Add the berries and banana slices and blend until it becomes a soft serve texture/consistency. If you find it isn't the texture you desire you can add more berries or banana; alternatively you can place the it in the freezer for about 10 minutes to harden a bit.
Enjoy!