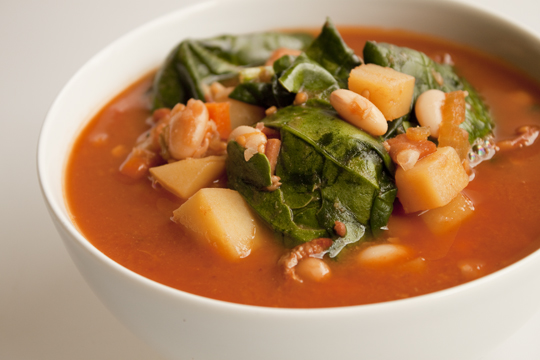 Recipe: Bacon, Bean and Spinach Soup

Recipe info/allergen info: This recipe is gluten-free. If you need to be really stringent about making this recipe gluten free: make sure the northern beans have been packed/processed away from gluten-containing grains. Also check that the bacon you use doesn't contain any gluten-containing ingredients and check the same for the tomato paste, the molasses and mustard.

Ingredients:

1 C. dried great northern beans *These need to be soaked and cooked before hand- see below*
1 tbsp. butter or coconut oil
1 celery stalk, chopped (and leaves discarded)
1 onion, peeled and chopped
2 slices of bacon (I like this brand), chopped into small pieces
2 potatoes, washed and cubed
1 carrot, washed, cubed and end chopped off
2 cloves of garlic, crushed
1 bay leaf
2 tbsp. tomato paste
2 tsp. molasses
4 C. filtered water
2 C. tomatoes, cut into small pieces/halves (for the cherry tomatoes) (I used a mix of fresh yellow & red cherry tomatoes and a regular whole fresh tomato)
1 tsp. mustard
salt
a handful of spinach (for each person), washed and dried.

How to:

*Preparing the great northern beans*:

Soak these beans in about 1.5 x the amount of water overnight (you can add a piece of kombu in the soaking water, if you like).

*Cooking the great northern beans*

Then, when ready to cook the beans: Discard the water. In a pot add 3 x the amount of water to the cup of beans and then boil the beans until very very soft (Don't add any salt when it;'s cooking). Discard the cooking water.

Prepare the veggies: chop the celery & onion, potatoes, carrot and tomatoes. Crush the garlic. On a separate board, chop the bacon into small pieces.
In another large pot, melt the butter. Cook the onion, bacon and garlic. Now add the celery, potatoes, carrot and tomatoes. Add the bay leaf, tomato paste, molasses, mustard, water, cooked northern beans and salt.
Cook the soup until all the veggies and soft. (It took me about 45 minutes until everything became soft at about medium heat).
When ready to eat, add a handful of the spinach (washed and dried) per person in the pot. Leave it to wilt for a minute or two and then serve.
Enjoy!