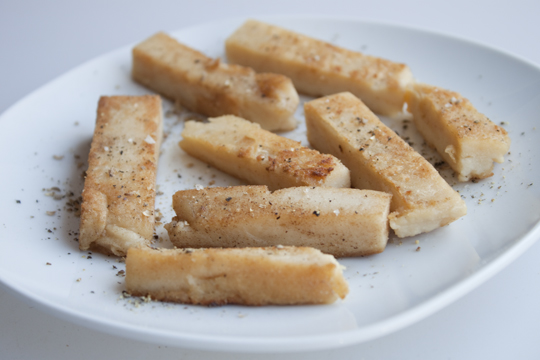 Panisse are a type of delicious french chick pea chip (or fry for our US friends). Normally these are made with chickpea flour (besan/garbanzo flour) but me being the lover of whole, real food and the nutrition-maximizing gal I am, I made them using the whole chickpea and sprouted them myself. (Here is a little guide on sprouting legumes, beans, nuts and seeds). So I hope you enjoy this slightly healthier take on Panisse and please let me know what you think!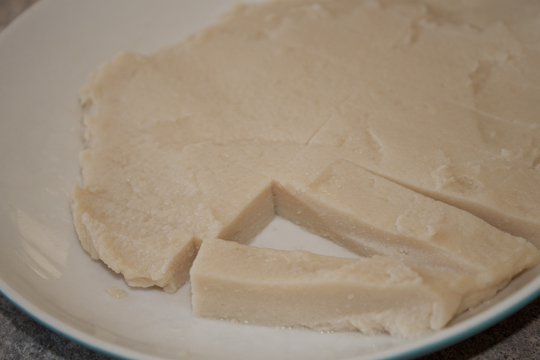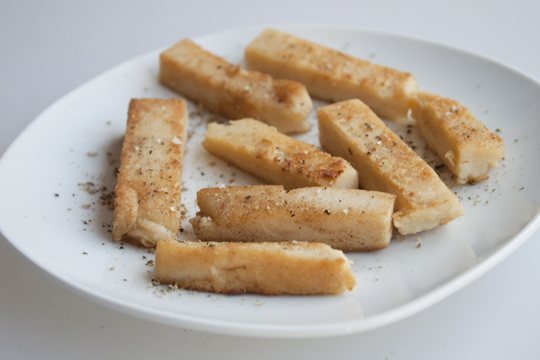 Recipe: Sprouted (or Soaked) Chickpea Panisse

Ingredients:

1 c. dried chickpeas
water (to soak or sprout the chickpeas)
water extra
a small amount of olive oil
coconut oil/ghee/butter to cook the panisse
salt, freshy cracked pepper and freshly ground coriander seed, to serve

How to:

Soak the dried chickpeas in water for a day or two. When they're soft, you can drain the water away and use them (see step 2) or you can continue and sprout them by rinsing the chickpeas in water a few times a day for a few days until they sprout.
Now if you're ready to cook: drain any remaining water away from the chickpeas and give them another rinse and drain the water away again. Add these chickpeas to a blender or food processor and add enough water form a watery mixture. Blend until smooth. Don't worry if you add too much water- it will cook away (see next step).
Now add this mixture to a saucepan and on low heat and whisk it until it forms a thick porridge-like mixture.
Get a large-enough plate and spread a bit of olive oil on it. Now spread the chickpea mixture onto the plate and cover it with another similarly-sized plate or cling wrap and place this in the fridge to set until firm. Then cut this mixture into chip/fries sized pieces.
When it is firm, it's time to cook! Heat a small amount of your fat of choice in a cast-iron pan and cook the chips on both sides until golden.
When they are all cooked, sprinkle them with a bit of salt, freshly cracked pepper and freshly ground coriander seed.
Enjoy!
Update/Notes:
12/6/12: I've made this with besan flour instead of dried & sprouted chickpeas.
 When adding water to the besan flour, only add a small amount and make sure the becomes very thick and porridge like otherwise it won't set properly.