The lemon basil that I had planted a few months ago has grown quite wild, so it was time to use it! It went really well in this soup.  I hope you enjoy this recipe for Lemon Basil, Capsicum and Cherry Tomato Soup.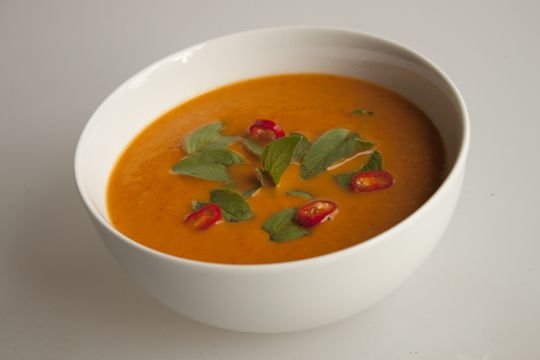 Recipe: Lemon Basil, Capsicum and Cherry Tomato Soup

Ingredients:

1 tbsp. ghee/coconut oil
1 onion, peeled and chopped
1/4 bunch celery, washed and chopped
2 garlic cloves, peeled and mashed/chopped finely
1 C. of cherry tomatoes, washed and sliced
2 red capsicums (bell pepper), washed, seeds discarded & chopped
1 zucchini, washed and chopped & ends cut off
chicken broth, beef bone broth or vegetable stock, enough to cover the veggies
a few tbsp. (or to taste) lemon basil
salt and pepper (to taste) & few slices of fresh chilli (optional)

How to:

In a large enough pot, on medium low heat your oil of choice, along with the peeled and chopped onion, chopped celery and the garlic cloves.
Add the washed and sliced cherry tomatoes and the washed and chopped capsicum (bell pepper) and stir for a few minutes.
Continue stirring and add the washed and chopped zucchini. Stir for a few more minutes.
Add enough broth of your choice to just cover the veggies. Add a lid to pot and turn it down to very low. Cook until the veggies are soft.
Then add the lemon basil and leave it to infuse in the soup for a few minutes (with the heat off). Blend the soup using a stand mixer or add it in batches in a blender until it is smooth and thick.
Season with salt and pepper and serve with a few slices of fresh chilli, if you like.