If you've never had (or heard of) biltong it is a dried meat of South-African origin. It is actually quite similar to beef jerky. It is 'paleo'-friendly, gluten-free, fructose-free and dairy-free. It won't be appropriate for those who follow a vegan or vegetrian diet, though you could make it out of eggplant or another root vegetable instead of the kangaroo meat for a similar taste.
Biltong makes a great protein-rich snack and can be added to soups, stews and salads. I added a few pieces that I cut up to a soup which made it quite tasty.  Biltong can be made with a range of meats, so feel free to try other meats in this recipe too. This recipe does have a very similar taste to the beef biltong I grew up eating which I'm quite happy about, so I hope you enjoy this recipe.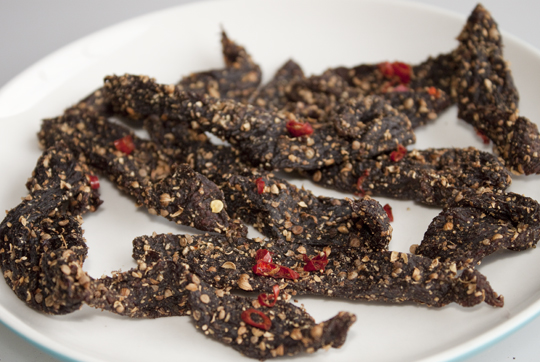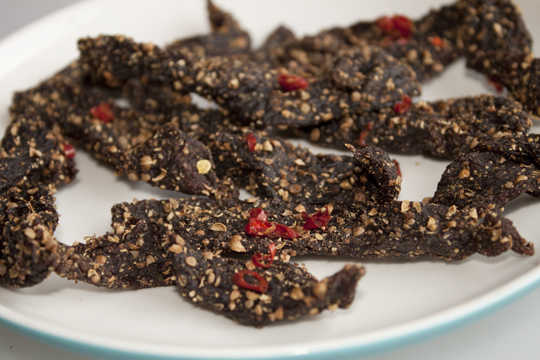 Recipe: Kangaroo Biltong

Recipe info/allergen info: This recipe is 'paleo', gluten-free, fructose-free and dairy-free.

Ingredients:

300g kanagroo steak, cut into long thin strips
2 Tbsp. coriander seeds, freshly ground
2 Tbsp. sea salt, ground
1 Tbsp. black pepper, freshly ground
1 Tbsp. balsamic vinegar (or apple cider vinegar)
A splash of coconut aminos (or tamari if not on a soy-free diet)

How to:

Grind spices together until coarse.
Prepare kangaroo by cutting it up into long thin strips.
Pour spices over meat until each pieces is covered in some spice mix and put the meat in a bowl.
Add the vinegar and tamari and disperse it evenly around the meat. Cover with cling film or a plate and keep this in the fridge for 12-24 hours to marinate.
Place each piece of the marinated meat onto a lined dehydrator tray and dehydrate it at 68 degrees C/ 155 F until they have dried out (it was around 8 hours for me, but I think 6 hours would have been sufficient). Some like the texture of biltong more dry while others like their biltong a bit chewier- so adjust the drying time to how you like your biltong (or to how you think you may like it).
Some more kangaroo recipes on Health Food Lover:
Slow-Cooked Kangaroo Bolognese with Zucchini Pasta