Here is yet another delicious and nutrient-rich recipe to get dark green leafy veggies in your diet! I hope you enjoy it!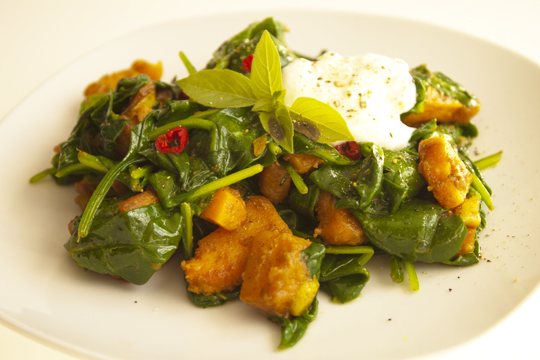 Sautéed Spinach & Sweet Potato with Yoghurt

Recipe info/allergen info:

This recipe is dairy-free (if exluding the yoghurt) and it is gluten-free and egg-free.

Makes: 1 serve. Double etc for a larger quantity & more serves.

Ingredients:

1 tbsp. coconut oil
1/2 tsp. of cumin & coriander powder
a few black peppercorns and a pinch of salt
2 small garlic cloves, peeled and crushed
1/2 medium-sized sweet potato, chopped into small chunks
2 C. of baby spinach, rinsed and dried thoroughly
Full fat natural yoghurt (or kefir)

How to:

In a pan heat the coconut oil, and stir in the cumin and coriander powder, peppcorn corns and salt. Leave on low for a minute or two while you peel and crush the garlic and chopped the sweet potato into chunks.
Add the garlic and sweet potato to the pan and cook on low until the sweet potato is soft, stirring every few minutes.
Then add the baby spinach (that has been rinsed and dried*) to the pan and stir until it all wilts.
Now you're ready to eat. Spoon this out onto a plate and then top with a little bit of yoghurt.

*This stops the baby spinach from becoming watery.