I know sometimes it can be hard to get greens in your diet, but here is another way to inspire you: Green Spinach Pancakes! These were born simply from my idea of wanting to make a green smoothie into a pancake! Oh, and for those spinach-haters, here is some good news: these pancakes don't taste like spinach, they just taste like banana (they are a sweet version of spinach pancakes)!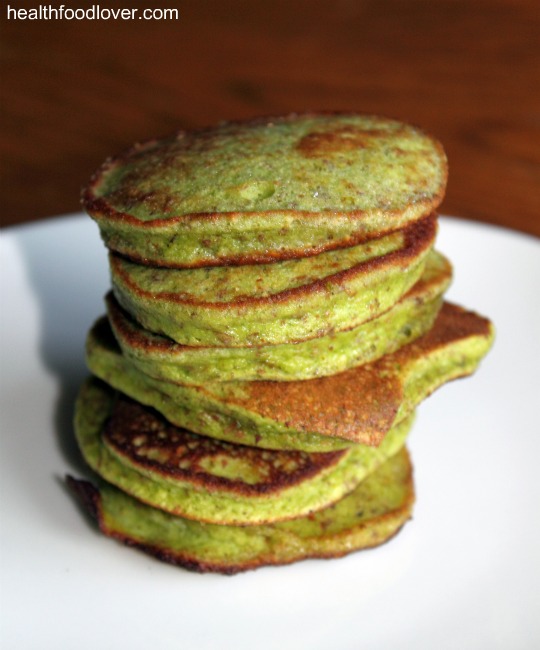 Recipe details: These pancakes are dairy-free and gluten-free. These pancakes do contain flour, but you don't have to use refined white wheat flour. There are many alternatives available. You can try:
Spelt flour (contains gluten)
Sprouted grains, such as organic wheat or spelt grains (as I did in this recipe for sprouted crepes) (contains gluten)
Sprouted grain flour (will contain gluten)
Sprouted seeds such as sunflower seeds or sprouted nuts (gluten-free)
Rice flour (gluten-free)
Buckwheat flour (you can also grind whole buckwheat groats to make flour) (gluten-free)
Coconut flour (gluten-free)
Almond meal (This is ground almonds you can make this yourself in a food processor/blender/coffee grinder by grinding up almonds till fine) (gluten-free)
In this recipe I used almond meal.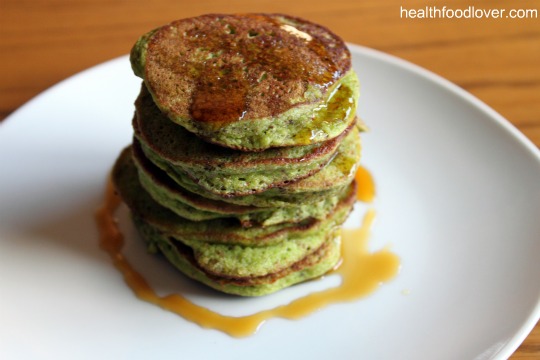 Recipe: Green (Spinach) Pancakes!

Makes around 10 or so pikelet-sized pancakes and fewer larger pancakes.

Ingredients:

3 eggs (best if from organic/biodynamic raised & pastured chickens)
1 handful of baby spinach (or more)
1- 2 Â medium-sized banana(s)
1 C. almond meal
coconut oil, to cook with (or ghee/organic butter/red palm oil)
to serve: fresh nuts and seeds, fresh seasonal fruit, maple syrup etc.

You will need:

a blender or small food processor
a frying pan
a spoon
a spatula

How to:

In a blender or food processor, add the eggs and baby spinach and blend until you have green eggs*. Add the banana and blend again.
Pour this into a bowl mixture in a bowl and mix in the almond meal till you have a thick mixture.
Heat a few teaspoons of coconut oil in the frying pan and when hot, dollop the pancake batter mixture into the pan and cook until brown on both sides.
Serve with your favourite pancake toppings.

Nb:

*You can blend eggs and spinach to make green eggs and you can serve it as "Green Eggs & Ham" for kids.
To make this fructose free: replace the banana with another 1/2 to 1 C. of almond meal and adjust the consistency of the pancake batter as needed.
– – –
© Copyright: 2011 Michelle Robson-Garth. Please ask permission first when using any text or images on healthfoodlover.com . See the disclaimer here.