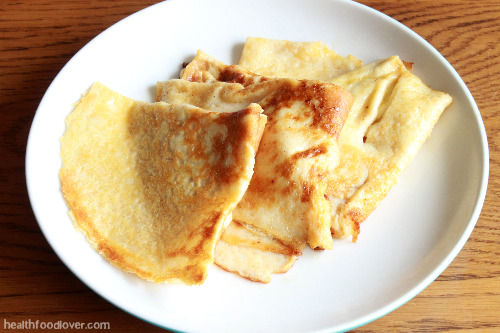 Like fermentation, sprouting can greatly increase the nutritional profile of certain grains [source]. I sprouted some wheat and decided to make crepes. I love these crepes because they are made from whole intact sprouted grains, they're really easy to make and taste great. So I'm sharing the recipe with you!
Sprouted Wheat Crepes
Serves: 2
Ingredients:
~ a handful of sprouted wheat
milk, enough to make a thin batter
2 whole eggs
butter, to cook with
honey to serve
How to:
In a blender, grind wheat sprouts till fine. Add milk and mix until a batter forms.
Add eggs and blend again. Mix until you have a consistency similar to that of condensed milk.
Heat butter in a pan, pour a small amount of the batter into the pan, swirl the pan so the mixture spread and forms a thin pancake (crepe) and cook until browned on each side.
Enjoy how you like.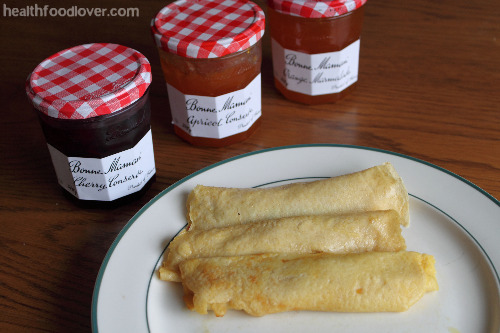 In these crepes I used preserves from Bonne Maman. I tried a different flavour of jam in each crepe. The jams although a little bit sweet for my liking were pleasantly fruity. I tried the Cherry, Orange and Apricot varieties.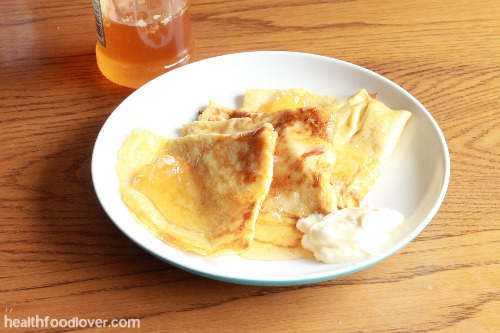 With these crepes, I served them with broken honeycomb pieces, honey and organic cream.
Posted to Monday Mania 20/9, Hearth 'n' Soul Blog Hop 15,