Certain food preparations can help increase nutritional content of foods. Such food preparations include sprouting (see: sprouted wheat crepes, sprouted sunflower seeds, sprouted wheat cookies), soaking and fermenting (see: guest post on fermented foods, ) grains, nuts, seeds and legumes. These practices are all beneficial as they help to neutralize anti-nutrients as well as increase nutritional content of the food being prepared.
Buckwheat, which is a seed rather than a grain (a pseudo-grain) is gluten-free. For more information on buckwheat and how fermenting it results in an easier-to-digest and more nutritious pancake batter, have a read of Stephan Guyenet's post 'Real Food XI: Sourdough Buckwheat Crepes'.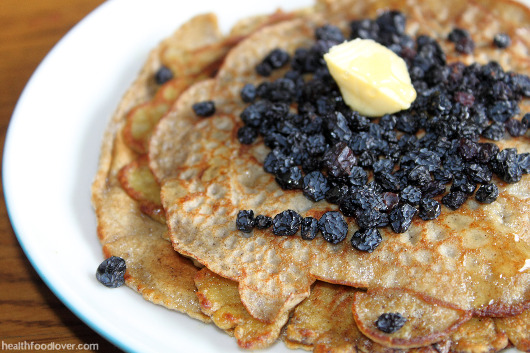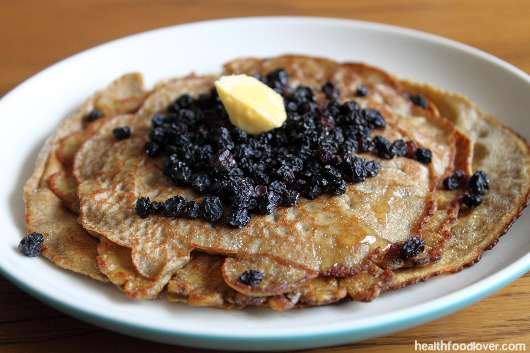 Recipe: Fermented Buckwheat Pancakes with Biodynamic Currants & Cultured Butter

Adapted from Stephan Guyenet's 'Sourdough Buckwheat Crepes'.


Ingredients:

to ferment-

1 C. buckwheat flour
1/2 c. leben yoghurt + whey* mixed into 3/4 cup full cream milk
water, extra

*I used whey that had separated at the top of the yoghurt.

to make the pancakes-

3 eggs
coconut oil or butter to cook with
cultured butter** and currants to serve

**I used Ballantyne branded cultured butter.

How to:

Add buckwheat flour to a bowl. Mix together yoghurt, whey, milk and water and then combine well with the flour to form a pourable batter. Place a plate over the bowl and leave overnight or up to 24 hours to soak and ferment. I left it to ferment for around 18 hours.\When ready to make the batter beat the eggs with the fermented buckwheat batter. Heat butter or oil in a pan, spoon some of the mixture into the hot pan and cook until brown on both sides.
Serve with currants and cultured butter.
How does it taste?
The inclusion of dairy milk and the act of fermenting the batter does seem to give the pancakes a much milder taste than if the batter was without milk and wasn't fermented (so good for those who wouldn't normally like buckwheat). The fermentation also seems to make the pancakes quite light and fluffy. So I have to say these pancakes were definitely a success and I will be making these again!
I'd love to know what you think of this recipe,
Michelle.
– – –
Linked up to Fight Back Friday, Vegetarian Foodie Fridays