I've noticed lately I've been posting quite few sweet recipes and not very many savoury recipes. And what kind of Health Food Lover would I be if I didn't post savoury recipes? So here is a healthy savoury curry recipe and it's a vegetarian recipe one to boot! This is a curry made out of chickpeas (rather than meat) so it is safe for vegetarians or those who would rather not eat meat.
The great thing about legumes, such as Chickpeas is that are generally pretty cheap and can be more than half (or more) the price of meat. So very budget-friendly. And they're nutritious too.
The Benefits of Including Legumes In Your Diet
As mentioned above, lentils and legumes are a nutritious food. So what's so great about them?
Certain legumes are high in fibre and have a low glycaemic index (1). For example in the main star in the recipe (below), Chickpeas, has a GI of 6 (most likely due to the fibre which slows down the breakdown and release of the carbohydrate in the legumes)! Though, if you have a huge amount of legumes it will have a larger effect on your blood sugar, because technically, the larger amount of carbohydrate food you have, the higher amount of carbohydrate you will be ingesting and that means it has a higher potential to raise your blood-glucose levels. So it's always good to keep that in mind. But like any food, enjoy lentils and legumes in moderation.
Reference:
1- Trinidad TP, Mallillin AC, Loyola AS, Sagum RS, Encabo RR, 2oo9, 'The potential health benefits of legumes as a good source of dietary fibre', 103(4):569-74, The British Journal of Nutrition, http://journals.cambridge.org/action/displayAbstract?fromPage=online&aid=7181080, viewed 9th October 2010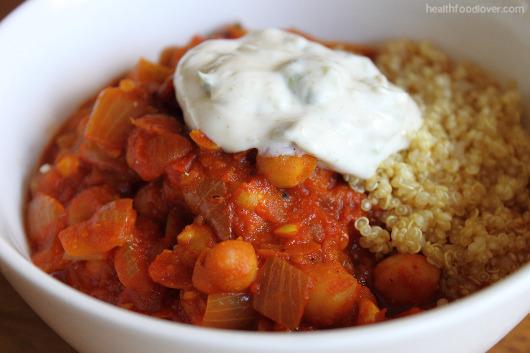 Spicy Chickpea Curry
Ingredients:
Oil
1 onion, chopped roughly
2 bay leaf
salt, ground
3 t. paprika powder
1 t. turmeric powder
1 t. cumin powder
1 t. corriander powder
1/2 t. cinnamon powder
3 garlic cloves, chopped
1 1/2 C. chicken or vegetable stock
3 tomatoes, chopped
1 t. honey
1/2 dried chilli, finely chopped (optional)
3 T. tomato paste
black pepper
1 can chickpeas, soaked and rinsed
Heat oil and cook onion and bay leafs in a pot,  until onion is soft. Add in spices, garlic cloves, salt, chilli and stir to combine evenly. Adjust spices to your liking.
Add in stock, tomatoes, tomato paste and honey and stir again. Add in the chickpeas. Cook for around 2 hours with a lid on or until the chickpeas are soft.You may need to add a bit more stock depending on how quickly the water evaporates.
Serve with quinoa, brown rice or buckwheat and Cucumber Raita (below).
Cucumber Raita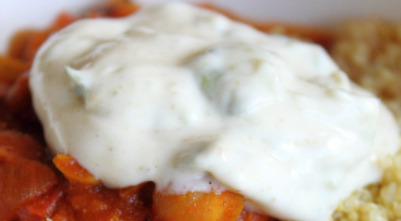 Ingredients:
coriander powder
greek yoghurt
grated cucumber
How to:
This is really easy to make just mix it all together with a spoon or in a blender. Enjoy chilled over the curry.
I hope you enjoy these recipes and the information I presented above.
If you have any questions, comment below!
-Michelle.
Linked to Hearth and Soul Blog Hop