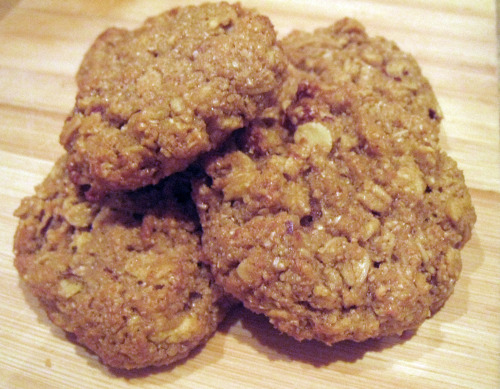 Last week I talked about how to get more whole foods into your diet. This week I present to you a lovely way to get some sprouted grains into your diet in a sweet and delicious way.
I have been sprouting my grains quite often now and then drying and grinding them into flour to create a more nutritious and digestible flour. I've made other sprouted foods before- see Homemade Essene Bread and How To Sprout Sunflower Seeds. This is one of my new recipes that contain homemade sprouted wheat flour. I'm planning to post more information on sprouting and sprouted grain/seed etc recipes in the future (because they're so easy to make!). I shared this recipe at Real Food Wednesday hosted this week by kellythekitchenkop.com and it was also shared with the Pennywise Platter at The Nourishing Gourmet's Blog.
Apple & Cinnamon Oat Cookies (with Sprouted Wheat)

Ingredients:

2 T. organic butter or coconut oil
2 T. organic maple syrup
1 egg
1 apple, puréed
1 teaspoon of ground cinnamon
1 C. whole wheat sprouts, minced (doesn't have to be finely ground)
1/2 tsp. Â bicarbonate soda
1/2 C. rolled oats
1/4 tsp. ground sea salt

Directions:

Grind dry sprouts until ground.
Cream butter/coconut oil and maple syrup.
Beat in the egg till completely mixed in.
Mix in the apple and then the flour, bicarbonate soda and pinch of salt.
Stir in the oats.
Evenly dollop the mixture onto grease proof paper.
Cook in the oven at 150 C. for 25-30 minutes until lightly browned.
Enjoy!