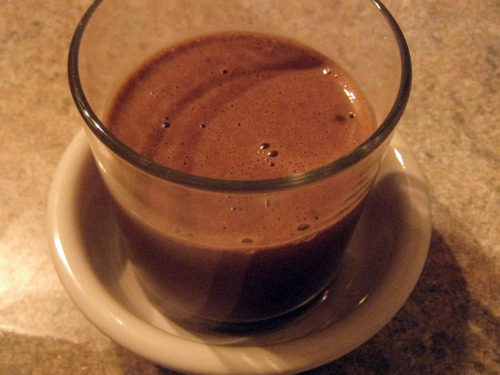 Lately I've been craving a creamy hot choc-type drink. But I wanted to make a dairy-free version (as sometimes I like to use 'alternative' milks, to get more variety in my diet) and I was planning to have this at night that meant I didn't want to have something that would prevent me from sleeping (ie. caffeine) so I opted for the caffeine-free Carob powder. And so was the beginning of my Creamy Hot Carob & Coconut Drink recipe.
I have to say though, I definately do love chocolate. Here are a few of my other chocolate recipes (all delicious, healthy & contain wholefoods):
So by all means you can use cacao powder instead of carob powder if you prefer. I personally do like carob for its malty-richness.
If you choose to use cacao powder rather than carob, you may like to also put a piece of dark chocolate in your drink once you have heated the milk so it slowly melts (which is really yummy!) This would also be delicious served with a small meringue on top or homemade marshmallows. This drink also happens to me dairy-free & refined sugar free! So enjoy!
Creamy Hot Carob & Coconut Drink

Ingredients:

coconut milk, enough for two people (if its too thick add a bit of water to thin it out)
2 tablespoons of carob powder (or cacao powder)
water, to dissolve the carob powder
a pinch of sea salt
maple syrup, sweeten to taste
a pinch of cinnamonn, to serve

Directions:

In a glass jar mix the water and carob till it becomes a smooth paste. Add the coconut milk, sea salt and stir to combine.
Heat the jar with the carob-coconut liquid in a small saucepan half-filled until your drink is frothy and hot.
Pour the hot drink into cups and sweeten with maple syrup and a pinch of
Enjoy!
I shared my post with Amy Green's Slightly Indulgent Tuesday 23/2/2010.