Want a delicious-yet healthy recipe alternative to sugar-laden conventional chocolate spreads? Well here is a chocolate spread for the health and taste conscious! It's really easy to make and all you need is a food processor or if you don't have one, you can substitute macadamia butter for macadamias (much easier to process to a smooth consistency). I've added orange zest to the recipe to give the butter a 'jaffa' taste.  This recipe is also dairy-free, gluten-free, sugar free and vegan.
How to use (as a special treat) : spread on sourdough toast, pour on ice cream, add to a smoothie, use as a decadent dip for fruit, spread on sprouted wheat crepes, on a sweet breakfast omelette or try using it as icing on a healthy chocolate cake. There are heaps of ways to enjoy this spread.
Notes/Research:
Cacao is rich in flavanols [source] and is a source of caffeine [source] which may affect those who are sensitive to it. Cacao's flavanols may possibly have a positive affect on inflammatory diseases [source, source].
Virgin coconut oil may have a beneficial effect on "lowering lipid levels in serum and tissues and LDL oxidation by physiological oxidants. This property of VCO may be attributed to the biologically active polyphenol components present in the oil". [source]
Macadamia nuts are a source of monounsaturated fatty acids and have been shown to reduce total cholesterol and LDL cholesterol [source].
Orange, Cacao, Coconut and Macadamia (Jaffa) Butter
Ingredients:
a handful of macadamias or around 4 tablespoons of macadamia butter
3 T. of cacao powder (unsweetened) or carob powder
1 t. orange zest
1 heaped T. coconut butter
1 T.  honey or a few drops of stevia (optional)
How to: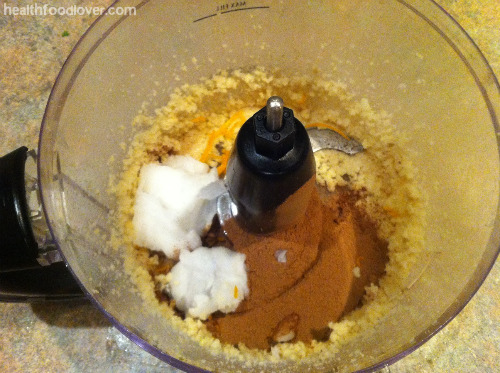 If using a food processor: Process macadamias in a food processor until smooth. Add the cacao powder, zest, coconut butter and sweetener if desired. Mix again until smooth. Store in a glass jar in the fridge. It will harden in the fridge so you may need to warm it a bit before using.
or
Without a food processor: Mix macadamia butter, cacao powder, zest, coconut butter and sweetener together in a bowl until it has a smooth consistency. Store in a glass jar in the fridge.
Enjoy!
I shared this post at Real Food Wednesday, Pennywise Platter, Fight Back Fridays, Vegetarian Foodie Fridays