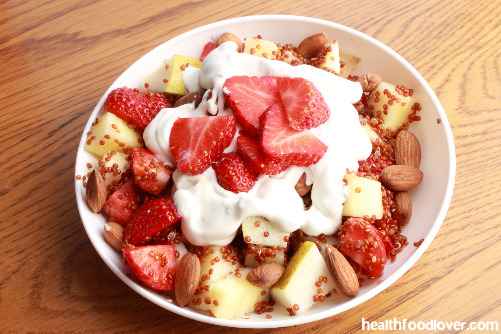 You may remember last week I made a savoury quinoa tabouli salad with chicken and grapefruit. And now this week I have a sweet quinoa fruit salad for you. That's the great thing about quinoa- it's very versatile and can be made into a number of dishes, both sweet and savoury. I've made this into a paleo/primal friendly, vegan, gluten-free and dairy-free recipe by using quinoa which is gluten free and coconut cream instead of dairy-cream but which is just nice. I hope you give quinoa a go and try one of these recipes.
Quinoa Fruit Salad with Coconut-Passionfruit Cream
Ingredients:
2-3 T. red quinoa, soaked overnight in water
1 C. fruit of your choice: I used6 strawberries, 1/4 pineapple, 1/2 pear
1 passionfruit
a handful of almonds, soaked in water overnight (you can try adding different nuts and seeds as well)
2 T. coconut cream
How to:
Rinse the quinoa in a fine mesh strainer until the water runs clear and not soapy (this is due to the saponins). Add the quinoa plus about a cup of water to a saucepan and cook until soft and the tails become exposed from the quinoa (around 5-10 minutes). Drain the water and set aside.
Drain and rinse the almonds and pat them dry with paper towel.
Prepare your fruit: I sliced the strawberries, and cubed the pineapple and pear. Add the fruit to your bowl and stir in the quinoa and almonds.
To make the coconut-passionfruit cream: simply stir together the coconut cream and the passionfruit. Then dollop it on top of your quinoa fruit salad and enjoy!
Giveaway: WIN Free enrollment for the SURF & TURF Meat and Seafood online cooking course
To enter all you have to do is answer the question on the post. Good luck everyone.
This post was linked to Slightly Indulgent Tuesday