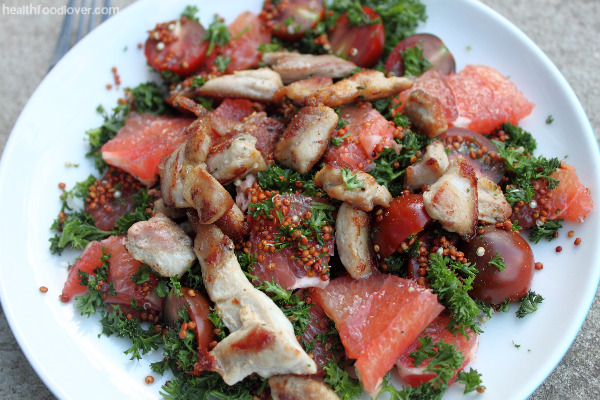 Love tabouli, but can't eat wheat? Enter Quinoa! Quinoa is a gluten free seed (yep it's not really a grain, it's what some would call a pseudo grain). Quinoa acts as a substitute to wheat which would normally be used in a tabouli recipe. It gives it a bit of crunch and a lot of nutritional power. In this recipe I've also added some chicken and ruby red grapefruit for lots of flavour and tastiness!
I squeezed some of the grapefruit into the salad to act as a bit of a dressing (you can also add some of the zest and a bit of olive oil too). It makes it really fresh tasting and zesty. I hope you enjoy this recipe!
Red Grapefruit, Chicken and Quinoa Tabouli Salad
Makes 1 serve
Ingredients:
3-4 cherry tomatoes, halved
3-4 T. parsley finely chopped
1/4-1/2 red grapefruit, sliced
2-3 T. red quinoa, rinsed then cooked
1 chicken thigh, sliced and cooked
salt and peppper
Directions:
Rinse the quinoa until the water runs clear (and isn't soapy which can be the case because of the saponins on the quinoa). Cook the quinoa with water (or stock) in a saucepan until the 'tails' of the quinoa are revealed. Drain and set aside.
Prepare your salad: slice the tomatoes, finely chop the parsley and slice the grapefruit. Stir together. Squeeze in some of the grapefruit juice (and olive oil and grapefruit zest if you desire).
Cook the chicken in butter or oil till browned and cooked through.
Then, along with the quinoa add the chicken to the salad and stir to combine.
Quinoa Research:
Quinoa has been suggested as a healthy ingredient for those on gluten-free diets [1].
According to NDDIC, Quinoa is okay to eat for those with Celiacs Disease [2]. Though, those with Celiacs will need to be a cautious as what is okay for one person may not be okay for others.
Nutritionally speaking, Quinoa is a source of many vitamins and minerals and also contains polyphenols, phytosterols, flavonoids and has a good vitamin E and omega 6 profile [3].
Some of it's nutrients include calcium, phosphorous (due to phytic acid), potassium and magnesium (which is due to phytate) and also sulfur [4].
The amount of protein in Quinoa is quite high compared to other cereals and it is quite digestible [5].