This week I have a wonderful recipe guest post from Mariana Cotlear of Epicuriosa. To read more about Mariana have a look at the end of the post.
– – –
Recipe: Beautiful Swiss Chard Saute with Salami and Raisins
Swiss Chard is one of my favorite leafy greens, mostly because it's
super beautiful. The bright red stems contrast with the green and
it's like a party for your eyes. Whenever I see a bunch of this stuff
I really can't resist. As a bonus, it's usually pretty cheap.
I think people find these types of greens tough to cook with because
they are kind of bitter and don't pair well with everything. But if
you know how to work with 'em, they can do great things for you. This
is one of my favorite ways to cook any green (kale, spinach, arugula)
but I think it works particularly well for the chard. Â Hope you enjoy!
Ingredients:
1 bunch swiss chard, chopped or torn into 1/4 inch pieces
1 onion, sliced
4 cloves garlic, minced
6-8 oz salami or other cured meat, cut into strips
1/3 cup raisins
olive oil
salt and pepper to taste
Directions:
Saute the onion and the garlic over medium low heat. When they are slightly translucent, increase the heat to medium high and add the cured meat. Continue cooking, stirring, until the meat starts to get brown and slightly crispy.
Add the chard a handful at a time, stirring between handfuls.
Add the raisins and cook until the chard is slightly wilted.
Add salt and pepper to taste and serve hot.
This is great side dish or topping for pasta!
About Our Guest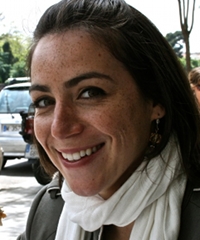 Mariana Cotlear is a foodie and public health advocate who blogs about eating, cooking, and food policy issues at her blog Epicuriosa. She hopes to change the nutritional landscape in the U.S. and beyond via public
policy and communications campaigns to influence the way people eat and encourage them to establish healthier relationships with food.
– – –
Submitted to Slightly Indulgent Tuesday