This cake is seriously so easy to make, it tastes great and it is quite a delicious looking cake! And it doesn't contain any eggs, dairy or refined sugar! Some even go so far as to say it won't make you fat and could even help you loose weight (but remember moderation is key).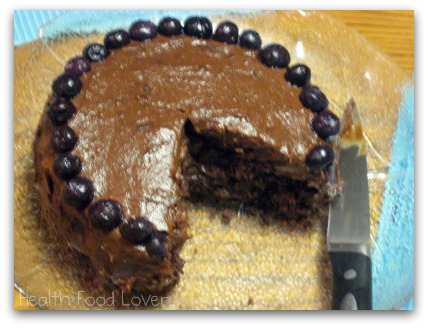 How can I say this? Well it all comes down to the ingredients. As you may be aware, if you eat unhealthy things, you will begin to feel and be pretty unhealthy.
Unlike most cakes, this cake is full of health-giving ingredients. They are all are real foods. This recipe uses organic plant-based whole foods . The cake is dairy, egg, flour, gluten and refined sugar-free and raw.  The raw part is kind of what makes this cake quite distinctive. None of the ingredients are cooked at all, and you will see by the ingredients (below) that if you heated some of the ingredients (like the walnuts) it could quite potentially damage and oxidize the good fats in the walnuts.
If you have a nut-cracker it's best to crack your own walnuts out of the shell, to get them as fresh as possible. However, if  you don't have one, like me, once you've bought your shelled nuts, just store them in a lidded dark glass jar in the fridge to keep them fresh.
How to make this cake:
Raw Chocolate Ganache Cake with Blueberries

For the Cake:

1 C. pitted medjool dates
2/3 C. unsweetened cacao powder/carob powder
3 C. of walnuts
Seasonal fruit of your choice- blueberries, strawberries and raspberries are great, but use whatever you like. (For the middle of the cake and for decorating).

For the chocolate frosting:

1/2 an Avocado (trust me only use half. I tried a whole one once it turned out too avo-y. 1/2 an avo makes it taste like an actual chocolate frosting!)
1/3 Cup Cacao powder
1/3 Cups of pitted Medjool Dates
1/4 Cup Sweetener- Maple Syrup/Raw Honey/Rapadura sugar + a bit of coconut oil (all great choices)

Okay this cake is actually pretty fun to make, so get prepared to get your hands messy!

First grind the walnuts with the cacao till coarsley ground in the food processor.
Next add the dates and blend till the mixture starts to come together and forms almost like a firm ball of dough. This is what you want because you want your cake to be able to be moulded so you can form it into a cake.
Now once your cake mix is shape-able, shape it into two round cakes. This will be your top and bottom layers of the cake. In between them will go the ganache and fruit (and ontop aswell).
Now it's time to make the gananche/fudge/chocolate frosting. In the food processor add your sweetner and the dates. Blend till they become a smooth syrupy liquid. Now add your avocado and and cacao. Keep mixing until it is really smooth (no lumps) and it becomes quite thick and creamy. If so, you're ready to decorate the cake.
Okay get your bottom half of the cake. On it spread a thick layer of the ganache and then place the blueberries on top  of that.
Place your second half of the cake, on top of the iced bottom layer, and then cover the cake with the ganache. Decorate with the blueberries. Chill then enjoy!
And there you go. It is so easy AND  simple! The cake probably only really takes about fifteen minutes to  make, which is pretty fast for a cake!
I got this great recipe from Ani's Raw Food Desserts: 85 Easy, Delectable Sweets and Treats
. You can see the review I wrote about it here.
Thanks for reading and I hope you enjoy this great whole food and delicious recipe!