Here is a delicious dessert recipe which uses a fresh pear slices instead of filo pastry for a healthier twist on the traditional Baklava recipe.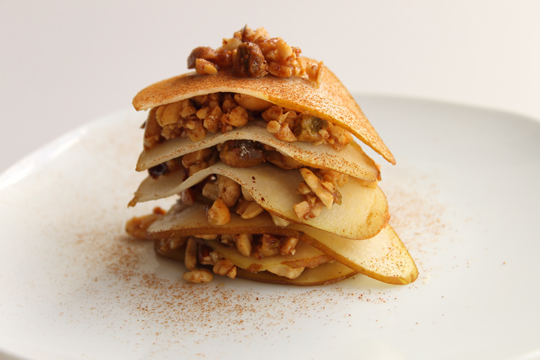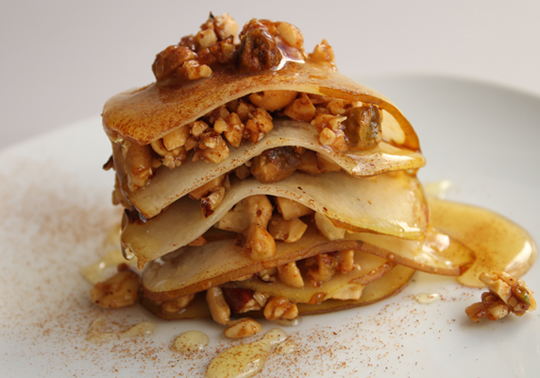 Recipe: Fresh Pear Baklava

Alleregen info/recipe info: This recipe contains nuts.

This recipe can vegan/vegetarian if using coconut oil instead of butter.

Ingredients:

1 pear
~1/4 C. nuts* (a mix of macadamias, almonds, pistachios and walnuts is nice).
1 tsp. coconut oil or butter/ghee
1/2 tsp. cinnamon
1 tbsp. lemon juice
1 tsp. vanilla
a drizzle of raw local honey
cinnamon extra, to sift on top
optional: yoghurt or home-made vanilla ice cream (to serve)

A few tips on finding healthier nuts and seeds & preparing them:  Nuts and seeds can be made easier to digest to by having them sprouted or soaking and then drying them in a dehydrator. Here is how to sprout nuts and seeds. I've always found the freshest nuts are at farmers markets, but wherever nuts are solds often (meaning the batch of nuts is not sitting around for months and weeks) can be a good indicator as to how fresh it is. Also if you taste a nut such as a walnut it shouldn't taste 'bitter' this is an indication the fats in the nuts are randcid (they have oxidized).

How to:

Make the pear 'pastry' slices:

Using a mandolin carefully slice a whole pear length ways to produce a lot of thin pear slices. They will act as the 'pastry'. Line up the pear 'pastry' together and cut the pastry in half so you have two mounds of pastry (i.e. for two serves). Set these aside.

Now make the filling:

Chop the nuts into very small pieces. In a pan heat the coconut oil/butter/ghee add the nuts, cinnamon, lemon juice and vanilla and cook for a 1 minute or so. Take this off the heat.

Now to arrange the Fresh Pear Baklava:

Take each slice of pear add a bit of the nut mixture, then another slice of pear on top of that and so on. Do this for both lot of pear slices.

Serve with a bit of left over nut mixture (if there is any) and a drizzle of honey & serve with yoghurt or home-made vanilla ice cream.