Even though animal products can be beneficial in the diet, it can be good to vary ones diet by having some vegetable-based dishes every now and again. Here is recipe for a vegetable curry that I made last week which I'm sure you're going to love!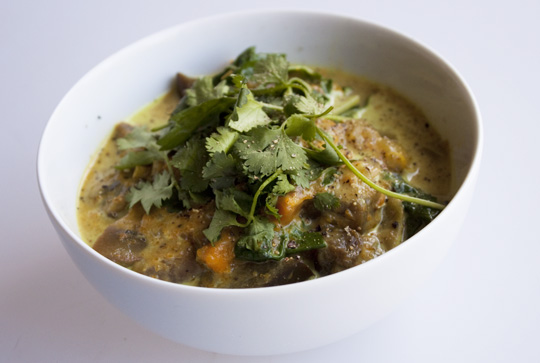 Recipe: Slow-Cooked Eggplant, Mushroom and Swiss Chard Curry

Allergen info/Recipe info: This recipe is vegan-friendly, vegetarian-friendly, dairy-free, egg-free and gluten-free.  

Ingredients:

1 Tbsp. coconut oil or butter
2 onions
3 small cloves of garlic
1 tsp. fresh grated ginger
1.5 tsp. turmeric root powder
1/2 tsp. coriander seed powder
1/2 tsp. cumin seed powder
1/2 lemon grass (the lighter part only)
1 large eggplant, chopped into large chunks
1/4 pumpkin, peeled and chopped
100g cup mushrooms, washed and cut into quaters or half
fresh coriander/cilantro stems, washed and chopped
2.5 C. water or vegetable stock or bone broth
1 bunch swiss chard, leaves torn off the stems
400ml coconut milk
fresh coriander leaves
1/2 a lime
salt and pepper

How to:

Heat a large pot and add the coconut oil. Chop the onions into small pieces, crush the garlic and cook both of these together until the onions are translucent.
Add the turmeric powder, coriander powder and cumin powder and fresh ginger. Stir it to prevent it burning and saute it for a few minutes. Turn off the heat.
Chop off the top part of the lemongrass and discard it. Finely slice the lemongrass and then put it in a mortar and crush it with the pestle until you get a paste-like texture. Add this to your pot.
Prepare the eggplant by chopping it into chunks. Peel and chop the pumpkin into chunks. And wash and cut the mushrooms in quaters. Add these three ingredients to the pot to and cook for a few minutes.
Add the water or bone broth along with the fresh coriander stems. Leave this to simmer on medium for 4 hours or low  for 6 hours (I cooked it for on low for 6 hours) or until all the veggies are soft, but not mushy.
In the last 15 minutes of cooking pour in the coconut milk into the curry and add the torn swiss chard leaves. Simmer for 5 or 10 minutes more or until the swiss chard has wilted. Add fresh coriander leaves, a sprinkle of lime juice and season the curry with salt and pepper to taste.
Enjoy!

Variations:

This curry is a low-protein meal so you if you would like to increase the protein content you can try the following:

Try cooking this with a cup of soaked or sprouted lentils. The lentils need to be added around the same time as the eggplant.
Try adding (around 500g-1kg) of beef to the recipe, again adding it at the same as the eggplant.
Looking for other eggplant recipes? Try these Baked Eggplant Chips with Tahini, Lemon and Honey Dip.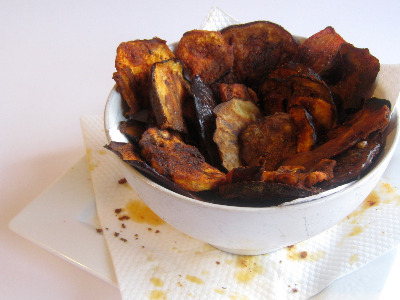 What are you favourite ways to cook eggplant?

© Copyright: 2009-2012 Michelle Robson-Garth. Please ask permission first when using any text or images on healthfoodlover.com. See the disclaimer here. Have a look at the recipe index for more health food lovin' recipes. Join the Facebook page & follow Health Food Lover on twitter.