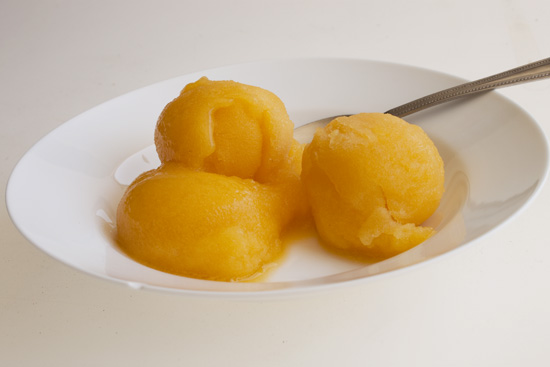 I hope you enjoy this bright, summery dessert!
Recipe: Chamomile, Ginger and Mango Sorbet

Allergen info/recipe info: This recipe is dairy-free, gluten-free, wheat-free and refined-sugar free (the mango gives the sorbet some sweetness).

Ingredients:

flesh of 1 mango (pip and skin removed), chopped
1 cup of chamomile (Matricaria recutita) tea, chilled
1/2 tsp. fresh ginger (skin peeled off)
water

How to:

In a jug add the mango, chamomile tea, fresh ginger and enough water for the whole mixture to equal a litre. Pour this into a blender or food processor and blend until completely smooth. Pour this into a ice cream maker and follow the manufactures directions.

or

You can pour this whole mixture into a shallow container (that will fit in your freezer). Put a lid on the container and every 40 minutes scrape the mixture to break down the ice crystals and keep doing this until the mixture freezes. Then scoop out and enjoy when frozen.

Caution: This recipe is not suitable for those who are allergic to chamomile or the Asteraceae family. Chamomile can reduce absorption of iron (so have iron supplements away from Chamomile). Ginger also may not be safe for those on medication and those who have reflux, peptic ulcers, gall stones and blood thinning medication. If you are unsure whether Chamomile or ginger is okay for you it's best to seek advice from your qualified health professional and an experienced Naturopath or herbalist. When in doubt you can just take out the ginger and chamomile tea and replace it with the same amount of water.
For more dessert recipes have a look at the recipe index.
© Copyright: 2011 Michelle Robson-Garth. Please ask permission first when using any text or images on healthfoodlover.com . See the disclaimer here. Have a look at the recipe index for more health food lovin' recipes. Join the Facebook page & follow Health Food Lover on twitter.