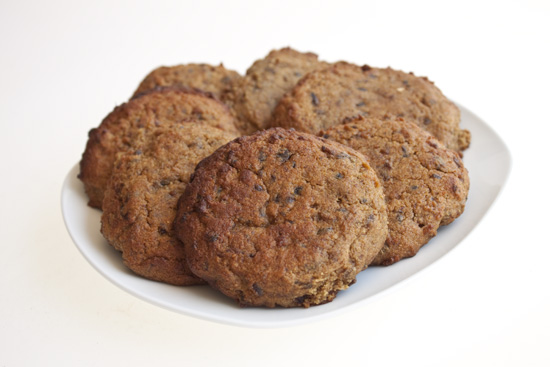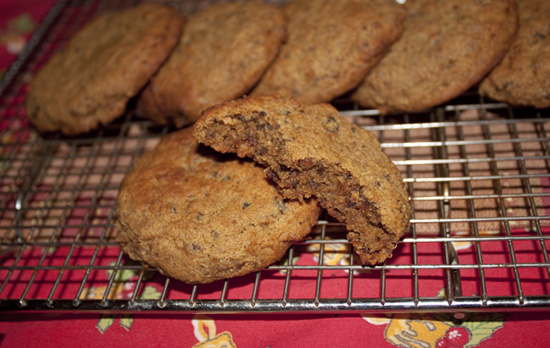 In the spirit of giving and all things Christmas, it's time for another recipe for you all. When I think of christmas food I think of a lot of different flavours and foods. Maybe it's because Christmas always seems to be a ridiculously huge feast! Some foods that come to mind (though of course not all in one meal or dish): seafood, fresh fruits (we're in summer here now in Australia), gingerbread cookies, iced eggnog, and homemade ice cream, among other foods.  I've already made some fresh berry frangipane tarts and pastured egg nog, now I've conjured up a healthy almond and ginger cookie (sweetened with dates). I've been thinking of a few cookie recipes for a while now, but not until I made the frangipane tarts was I able to come up with the recipe. I have actually adapted the tarts base from this recipe to make these cookies.
And if you've ever wanted to know the history of gingerbread have a look at this link.
Recipe: Chewy Almond and Date Gingerbread Cookies

Makes: ~14 cookies (or more smaller cookies)

Allergen info/recipe info: These cookies are gluten-free and contain dairy-free options.

Ingredients:

255g (~2 C.) almond meal
1/4 tsp. bicarbonate of soda
200g (~2Â C.) dates, pitted
2 tsp. cinnamon powder
1 tsp. all-spice
1 tsp. ground ginger
2 pastured eggs
2 Tbs. fresh gringer root
120g (~1/2 C.) grass-fed butter or coconut oil, melted

How to:

Preheat the oven to 160 degrees C.
First prepare the almond meal by pulsing it in a food processor or blender a few times to remove all the lumps. Add the bicarbonate of soda to the food processor/blender and pulse again (do not pulse too much otherwise you will get almond butter which you don't want!!).
Empty the almond meal-bicarbonate of soda mixture into a big bowl. Sift in the cinnamon powder, all-spice and ground ginger.
Now roughly chop the dates. Add them to the food processor/blender and process until they have broken down into tiny pieces. Add them to the bowl and with your hands mix the dates into the almond meal.
Go back to your blender and crack open the eggs and blend the eggs until they are thick and creamy. Add the ginger root and blend until it has broken down into the eggs and there are no lumps. Stir this into the almond mixture in your bowl.
Melt the butter or coconut oil in a double boiler. While stirring briskly, slowly pour the melted butter/oil into the almond mixture until it is all mixed together.
Prepare your baking tray: like the tray with a piece of greased parchement paper. Using an ice cream scoop, scoop some of the mixture and place it onto the parchement paper. Flatten out each cookie before you scoop more mixture onto the paper. Do this with all the cookie mixture (you may need two trays).
Bake in the oven at 160 degrees C (fan-forced) in the middle rack in the oven for 6-10 minutes or until lightly browned. Don't let them brown too much as the can burn quite easily.

Enjoy with a glass of chilled pastured egg nog!
Happy Holidays,
For more dessert recipes have a look at the recipe index.
© Copyright: 2011 Michelle Robson-Garth. Please ask permission first when using any text or images on healthfoodlover.com . See the disclaimer here. Have a look at the recipe index for more health food lovin' recipes. Join the Facebook page & follow Health Food Lover on twitter.