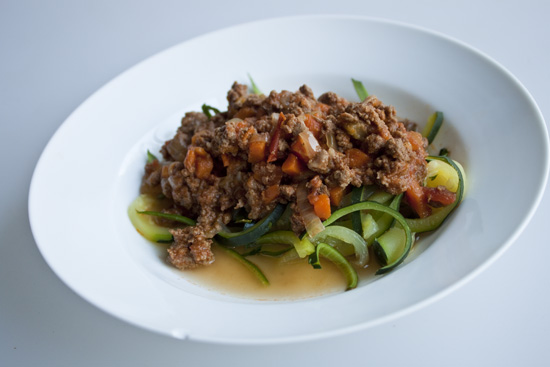 This bolognese is really very delicious and is worth the wait to cook it! This is actually the second time I've made it. The first time I used organic beef, while this time around I used kangaroo mince. Both were great. The first time I served the bolognese on some steamed veggies which is another great alternative to refined pasta (see below).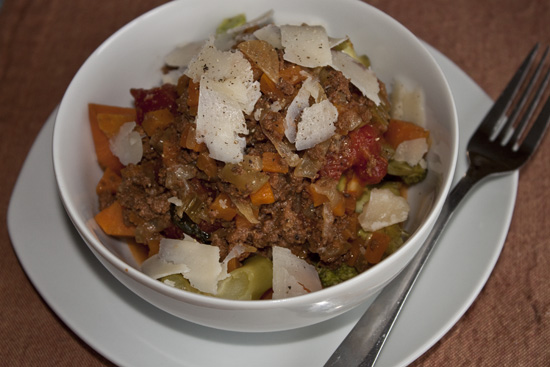 I've tried to simplify the recipe a bit so I hope that helps, because I know the recipe is really long! Note:Â If you have a crock pot it makes it all that easier to cook. This takes a little while to prepare, so it's best to cook on a day when you have more free time.
Inspired by Head Plant Health and her kanga lovin' ways.
If you try this let me know how it goes.
Recipe: Slow-Cooked Kangaroo Bolognese with Zucchini Spaghetti

Adapted from Kok Robin's Adaptation of Heston Blumenthal's Perfect Bolognese

Ingredients- Part 1: Caramelized Onions

510g onions, peeled and finely sliced
1 star anise
25 ml extra virgin olive oil

Ingredients- Part 2: Soffrito

4Â cloves of garlic
475g onion, peeled and diced
390g carrot, diced
300g celery stalk, diced and discarding leaves
50 ml extra virgin olive oil

Ingredients- Part 3: Meat Sauce

50ml extra virgin olive oil
1 kg kangaroo meat, minced
650 ml Oaked Chardonnay (I just used Sauv Blanc and it seemed fine)
500 ml full cream milk

Ingredients- Part 4: Tomato Compote

800g diced tomatoes (I used canned, but fresh would be better)
1 tsp. salt
200ml extra virgin olive oil
6 large cloves of garlic, peeled and chopped finely
2 onions, peeled and finely sliced
1 tsp. coriander powder
2Â star anise
6Â cloves
8-10 drops Tabasco
8-10 drops Thai fish sauce
3 tsps Worcestershire sauce
2Â heaped tbsp tomato ketchup (I didn't use this)
60ml sherry vinegar (..nor this)
1 bouquet garni= consisting of 7 sprigs of fresh thyme & 1 fresh bay leaf

Plus:

Zucchinis for the Zucchini "spaghetti"
Parmesan cheese, to serve
salt and pepper, to taste

Before you chop any ingredients, first pre-heat your crock pot.

How to- Part 1: Caramelized Onions

After you have peeled and finely sliced the onions, sauté the onions in a big pot along with the star anise and extra virgin olive oil. If you have a muslin bag you can put the star anise in it, I just use a few pieces of 1 star anise instead of crushing it.
Cook this for around 20 minutes or until the onions have softened and caramelised. Don't let them burn. When they're done, tip them out of the pot and put them in the crockpot.

How to- Part 2:Â Soffrito

Finely dice the onions, carrots and celery. Chop or mince the garlic.
In the same big pot, add the oil and then cook the onions, carrot, celery and garlic for around 20 minutes or until the raw onion smell is no longer detectable.  Add these ingredients into the preheated crock pot. Take the star anise pieces out of the caramelized onions in the crock pot (see part 1).

How to- Part 3: Meat Sauce

In the same big pot, heat it again add the 50ml of olive oil and wait until the pot is very hot to add the meat. Stir the meat until it has all completely gone brown. If all the meat does not touch the bottom of the pan you may need to cook the meat in batches). When it's cooked, add this meat to the Soffrtio in the crock pot.
Deglaze the pan by putting a bit of the wine in the pan and then bringing it to a boil to scrape the base of the pan to collect what is left on the bottom. When the wine has reduced by half, add it to the crock pot with the meat.
Add the hot milk and enough water to cover the meat and veggies. Simmer this in the crock pot on low with the lid half on for around 6-8 hours. The ingredients need to be always covered with water so you may need to check every now and again and top it up with water and/or milk.

How to- Part 4: The Tomato Compote

With the same pot, heat the oil and add the garlic and onion. Cook until soft (but not browned).
Add the coriander powder, star anise and cloves.
Add the diced tomatoes including juice. Add the tabasco, fish sauce, Worcestershire sauce, tomato sauce (if using), sherry vinegar and bouquet garni. I cooked this for about an hour (though the recipe suggests to cook it for 2 hours- I wasn't willing to wait too much longer at this point). After an hour remove the bouqet garni, star anise and cloves.

How to: Putting it all together:

Stir the compote into the meat sauce in the crock pot. The recipe says to cook this for a further 2 hours, while this would be a good idea flavour-wise, I just wasn't that patient! Season the meat sauce-compote mixture, if need be.
Make your zucchini spaghetti like this or this or this. Then boil the zucchini spaghetti till soft with boiling water and a pinch or so of salt.
Add the zucchini spaghetti to bowls to serve, top with the bolognese sauce and with parmesan cheese if desired.

Enjoy!
For more healthy recipes have a look at the recipe index.
© Copyright: 2011 Michelle Robson-Garth. Please ask permission first when using any text or images on healthfoodlover.com . See the disclaimer here. Have a look at the recipe index for more health food lovin' recipes. Join the Facebook page & follow Health Food Lover on twitter.