After such a hot today here in Melbourne, I struggled to focus on my studies so I took a break and went to the shops in search of some healthy ice cream!  I haven't had store bought ice cream in such a long time (I usually make my own), but I thought there must be at least one healthy ice cream there. Boy was I wrong! I was so surprised with how bad the ingredients in store-bought ice cream actually were! Many even contained high fructose syrup and soy bean oil! Even the 'gourmet' ice creams which I thought would be a bit more wholesome, were not excluded from containing those horrible ingredients! After giving up on finding not one brand of healthy ice cream, I grabbed a bag of frozen raspberries and went home to get creative.
The following recipe is what I came up with:
Quick & Easy Raspberry Ice Cream
Take a few handfuls of frozen raspberries, add a bit of milk  and blend till smooth in a food processor. Scoop out and enjoy!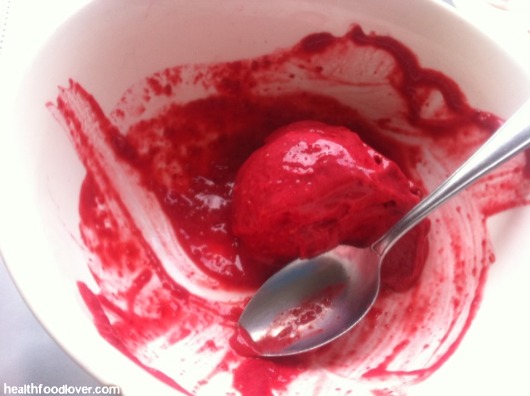 If you're looking for some more healthy ice cream recipes, why not try some of these?
Chunky Monkey Banana Ice Cream
Hope you enjoyed the sunny day today!
For more healthy recipes check out the recipe index.
© Copyright: Michelle Robson