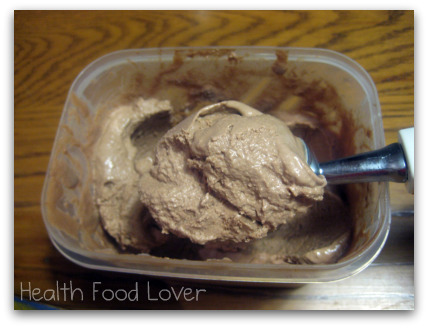 This is really nice creamy chocolate ice cream! It's a far healthier ice cream than store bought and it's one that doesn't use dairy or eggs but instead uses avocado to produce a creamy frozen treat. It would be great for those who can't have, don't like or are allergic to dairy or eggs (or even for someone who wants a nutritious treat!) It contains cacao and has a slighty nutty flavour from the walnuts. I made this without an ice cream maker, however if you have one you can use it.
Chocolate Avocado Ice Cream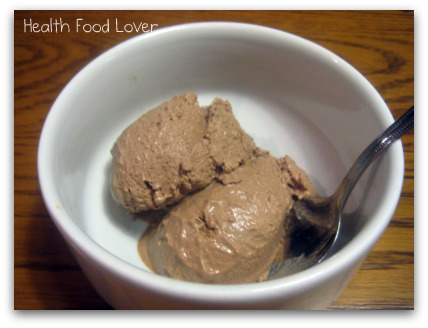 Chocolate Avocado Ice Cream

You will need:

1/2 a ripe avocado
Fresh walnuts, amount adjusted to consistency*
1/2 C. cacao powder or carob powder
1/2 t. vanilla extract
1/4 C.avocado oil
water, adjusted to consistency*
a pinch of himalayan salt
1/4 C. rapadura sugar/maple syrup/rice syrup/honey or dates
optional: cacao nibs to make it like a chocolate chip ice cream

How to:

Place avocado, avocado oil, vanilla, cacao powder and sugar/syrup in a blender or food processor and blend until very smooth.
Add walnuts and water- you want a thick mixture so adjust these two ingredients accordingly.
The mixture might warm up a bit in the blender if so leave to cool on the counter. When cool, pour into your container to freeze. A good option for a container is a pie dish that you can cling wrap (preferably earthenware type-dish- if it's metal or a nonstick you don't want that to get that scraped your icecream- or even just a plastic container with a air-tight lid. Cover the container tightly with a piece of cling-wrap before putting the lid on. (Use two pieces if using a dish and secure with tape). This helps to prevent unwanted flavours lurking in the freezer to develop in your ice cream.
After the first 45 minutes or so, take the ice cream out and either mix with a stick blender or a fork to help break up the ice crystals. Make sure you scrap the sides and bottom of the container as those areas crystalize there the most.
For the first 3-4 hours keep breaking up the ice crystals every hour or so until the ice cream becomes a smooth texture.
Freeze until it reaches the desired consistency.
Once thick, smooth and frozen you can serve! Scoop out with an ice  cream scoup or a deep rounded spoon.

Notes and variations:

I put the sugar as optional, but it is needed to help lower the temperature of the ice cream in the freezing process and also add a nice sweetness- you can add more or less than the amount I used if you wish.
Cacao nibs would give it a nice chocolately crunch.
You can use rice, almond or soy milk instead of water.
Frozen raspberries would be nice mixed in as its freezing.
You could try substituting macadamias, cashews or almonds instead of walnuts. Soak the walnuts for a few hours before hand and blanch and skin the almonds (you can skin them by pulling on one end of the almond- blend the almonds when cool).
You could use macadamia oil instead of avocado oil or maybe even like to use coconut oil.
If you choose to use coconut oil you may like to add a few tablespoons of coconut flakes or desicated coconut for a more tropical tasting ice cream.
Instead of using cacao powder and avocado oil you can use the combined amount of coconut-cacao butter, if you have it.
References:
The recipe is my own, however I used these sources as references:
I submitted this post to Food Renegade's Fight Back Friday November the 2oth. Please check back there for more food loving posts!!
How long will this last? Well if not eaten, then in the freezer it can last, or rather stay fresh, for about 2-4 months.