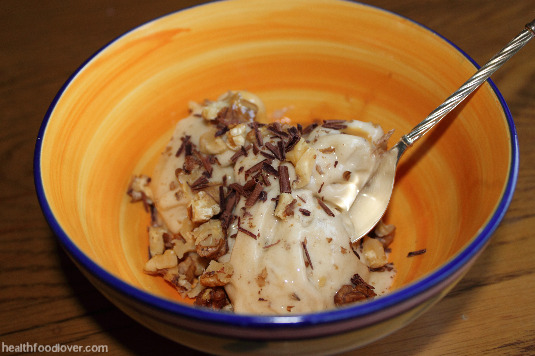 Have you heard of "Banana Soft Serve" or "one ingredient ice cream'? Well this recipe is an adaption from those ice cream recipes (which are both simply just frozen and blended bananas!).  This ice cream is really too good! And the main ingredient is Banana! I kid you not! Speaking of kids, I gave some of the Banana + Coconut Ice cream (with organic peanut butter added) to my two little nephews and they loved it! The older nephew, who is two, told me it was "very nice", so it had his approval! So I have to say kids will love this recipe even more than a  plain coconut + banana ice cream, especially if you call it 'Chunky Monkey' Ice Cream! But fear not this recipe IS pretty healthy! No dairy, gluten or sugar* in sight! And it's high in fibre! One type of fibre in bananas are pre-biotic which feed our gut flora (1)! But forget that, because what is so great about this ice cream is the taste!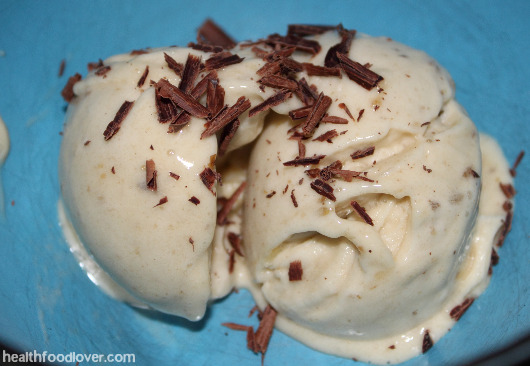 Banana ice cream with grated chocolate, ready to be topped with other goodies.
Chunky Monkey Banana Ice Cream

Ingredients:

4 ripe bananas, sliced thinly and frozen
1-2 t. smooth or crunchy peanut butter
a few T. of chopped walnuts
chopped + pitted dates or currants
a few T. of grated dark chocolate or chocolate chips

How to:

Freeze bananas till hard (around 12-24 hours). Process in food processor till smooth and creamy.
Mix in (or top with) peanut butter.
Stir in walnuts, grated chocolate and dates.

Easy, right? Now go enjoy this guilt-free dessert!

Notes:

*Depending on whether the chocolate you use has sugar or gluten, so check your labels.

1– Sabater-Molina M, Larqu© E, Torrella F, Zamora S, 2009, 'Dietary fructooligosaccharides and potential benefits on health', 65(3):315-28, Journal of Physiology and Biochemistry,http://www.ncbi.nlm.nih.gov/pubmed/20119826, viewed 9th October, 2010
Linked up to Slightly Indulgent Tuesday and Vegetarian Foodie Fridays
For more healthy recipes check out the recipe index.