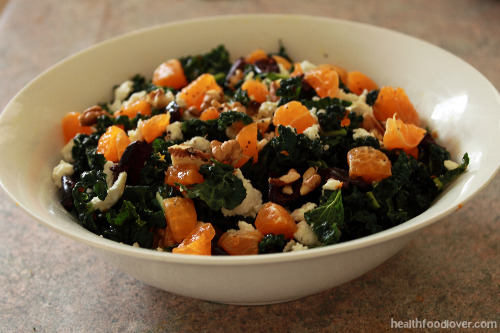 For all those kale lovers, here is another kale salad for you! This time I have added daisy mandarins to this salad, as these mandarins like other fruit, taste really good in salads!
About the produce I used:
The olives were bought from the Hurstbridge farmers market from Panton Hill Estate.
The kale and daisy mandarins are from a local organic produce shop as well as the goats feta from Meredith Dairy.
The walnuts and fresh blood orange juice are from Hurstbridge Farmers Market. I cracked the walnuts using a walnut-cracker and the juice I got freshly juiced at the market.
Kale Salad with Feta, Walnuts, Mandarin and Olives & Blood Orange Dressing

Serves 2-3

Ingredients:

1/2 kale, sliced thinly
6-7 walnuts, freshly cracked
a few kalamata olives, pitted
1 or 2 daisy mandarins,  each pieces sliced into 3 (pips removed) and zest
goats feta, crumbled
olive oil
blood orange juice
black pepper

Directions:

Rip, tear or slice the kale however you like and add to a bowl. Break up the walnuts and add to the kale. Add in the mandarin pieces, olives and crumble in the goats feta. Make a salad dressing of 3 parts olive oil and 1 part blood orange juice and stir in your black pepper to taste.  Pour over the salad when ready to eat.

I hope you enjoy this tasty salad!

  Copyright secured by Digiprove © 2010 Michelle Robson
Linked to Vegetarian Foodie Fridays, Whole Foods For The Holidays: Side Dish Carnival.

© Copyright: 2012 Michelle Robson-Garth. Please ask permission first when using any text or images on healthfoodlover.com. See the disclaimer here. Have a look at the recipe index for more health food lovin' recipes. Join the Facebook page & follow Health Food Lover on twitter.