Have you ever tried massaging your kale? I know, it does sound a little strange. However there are good reasons to do this! What are they you ask? Well, it softens the kale, which makes it physically easier to eat.  How does this happen exactly? Well, through physically massaging the kale you are partially breaking down the cell walls of the kale which releases the juice in it and makes it soften (which means it isn't so tough to eat and means a more enjoyable salad for you!).
How to massage kale:
Slice your kale thinly. (I use the whole of kale including the stem). Add the kale to a bowl and mix in a bit of olive oil. Now pick up the kale and rub the kale together into your hands. Keep doing this until the liquid from the kale is released and the kale begins to soften. The kale should reduce in volume by about half.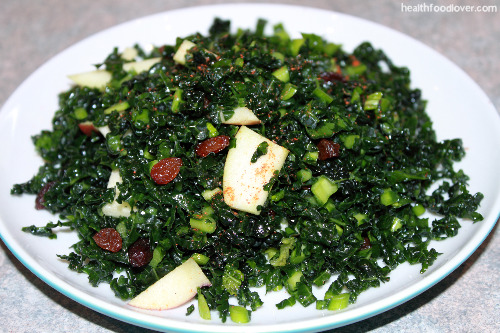 Spicy Massaged Kale Salad with Apple, Sultanas and Cinnamon
This salad is a little bit spicy and slightly sweet but very delicious and much easier to eat! This is a great salad for those who find greens too tough or bitter.

Ingredients:
1/4 bunch of kale, sliced thinly
olive oil
1/2 apple, sliced
a handful of sultanas (oil free)
1/2 t. cinnamon powder
1/4 t. cayenne pepper powder
olive oil, extra (optional)
Method:
Slice the kale and add the olive oil. Massage the kale as above. Leave to rest for half an hour (this softens the kale further). Then mix in the apple, sultanas, cinnamon, cayenne pepper and the extra olive oil (if the salad is too dry) if needed.
Loving massaged kale salads,
Michelle.
Let me know if you have tried this or if you will try this- I'd love to know how you like it!
Copyright secured by Digiprove © 2010 Michelle Robson