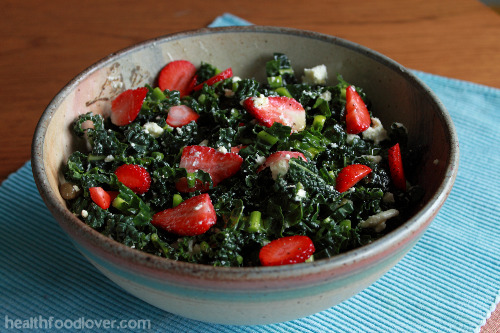 If you have trouble getting leafy greens into your diet, well here is a little trick to make your salad way more enjoyable: add some fruit! Adding fruit makes your salad a bit sweeter and can take the bitterness away from the dark leafy greens, it also tastes great and will make your salad really bright as well! What kind of fruit? Great fruit too add to your salad:- strawberries,  daisy mandarins, oranges, apples, avocado, olives (yes they are fruit) and more!
What kind of fruit do you like to add to your salads?
Strawberry, Kale and Goat's Feta Salad
Serves: 2-3
Ingredients:
1/2 bunch kale, sliced
goats feta, crumbled
6-7 strawberries, sliced
olive oil
salt and pepper
How to:
Add the kale, cheese and strawberries to the salad. Dress with olive oil and season with salt and pepper.
Enjoy,
Michelle.
Copyright secured by Digiprove © 2010 Michelle Robson
Copyright secured by Digiprove © 2010 Michelle Robson