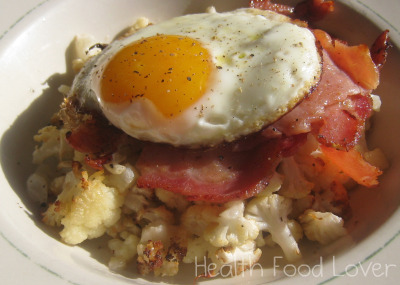 I'm a believer in all things in moderation and that includes lovely magical bacon. Luckily I've found a brand of bacon that is organic and grass-fed, it's appropriately called Pasture Perfect Pork.  The eggs I used are Biodynamic and were from Bullfrog Gully farms.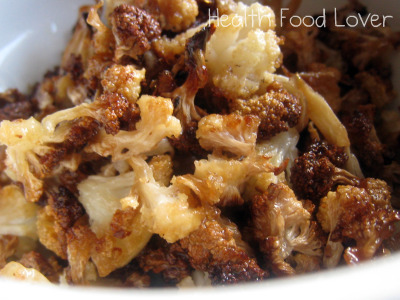 The Cauliflower Like Fries recipe is from Mariana Cotlear's blog Epicuriosa– I was pleasantly surprised when I tried it. The way the cauliflower becomes crispy and in a way is slightly sweet and not to forget its major appeal is that it is really very delicious. Here I've made Mariana's 'Cauliflower Like Fries' and added a piece of bacon and an egg on top (really yummy!).
Eggs, Bacon and Cauliflower Like Fries

Adapted from Mariana Cotlear's Epicuriosa.
Ingredients:

Eggs
Bacon
Cauliflower
Olive Oil
Salt and Pepper

How to:

Chop up your cauliflower in small pieces. Mix with olive oil, salt and pepper. Place in a baking dish and cook for 30-40 minutes until crispy.
Cook the eggs and bacon however you like and serve with the cauliflower like fries.

Variations:

Make scrambled eggs and then mix in the caulilfower fries and bacon before serving.
Make a poached egg. Add sliced bacon to the baking cauliflower and cook until the bacon as well as the cauliflower becomes crispy.
Make an omelette and add stir in the bacon & fries.
Submitted this post to Slightly Indulgent Tuesday 15th June, Two For Tuesdays and Real Food Wednesday!