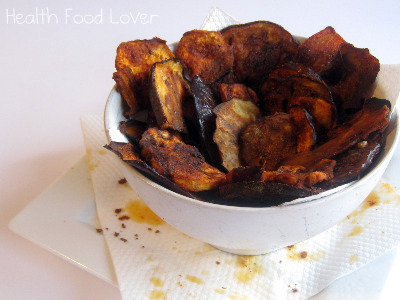 How did this recipe come about? Well I was thinking about how well the cauliflower like fries turned out and I wanted to make a similar but spicy recipe, and so I saw an eggplant and "I thought yes eggplant chips"! And so eggplant chips were born!
I do have say to that I love finding healthier alternatives to common "junk foods". To me these eggplant chips are a healthier alternative to potato chips and are pretty tasty too!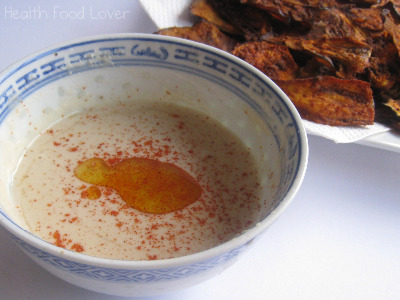 This slightly sweet tahini dip complements the eggplant chips well, is dairy-free and in this recipe is a nice alternative to tomato sauce.
I hope you enjoy these recipes.
Baked Eggplant Chips with Tahini, Lemon & Honey Dip

Paprika Eggplant Chips

Ingredients:

1 eggplant, thinly sliced
sea salt
2-3 T. olive oil
1 T. paprika
1 t. turmeric
optional: a pinch of cayenne powder

How to:

First prepare the eggplant by slicing it thinly and then covering each piece of sliced eggplant with a sprinkle  of sea salt. Place in a bowl for 1 hour- overnight. This step helps reduce the bitterness and baking time of the eggplant. Once that time is over and your ready to cook drain out the water that would have come off the eggplant and dry each piece of eggplant. Preheat the oven to 180 Celsius.
In a separate bowl mix together the olive oil, paprika, turmeric, cayenne (if used) and a little bit of salt. Brush each piece of eggplant on both sides with the spice-oil mixture.
Place covered eggplant pieces onto a baking tray and cook in the preheated oven for 30-40 minutes (fan-forced) or until lightly browned and crispy.

Tahini, Lemon and Honey Dip

1 heaped T. of tahini
1-2 T. cold water
1 t. raw honey
optional: 1 small clove of garlic
olive oil
a sprinkle of paprika

How to:

Mix together the tahini, water, honey and garlic. You may need to add a bit more water to thin it out. You want it to have a syrupy texture but not watery. So adjust the water content to  get your desired texture.
Pour a bit of olive oil in the middle (around 1 teaspoon) and sprinkle with paprika. Serve the tahini dip with the eggplant chips.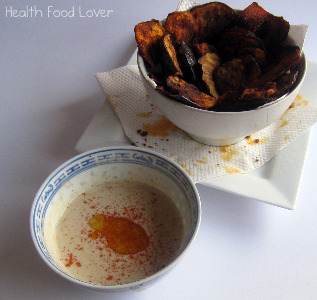 These two recipes are a part of Two For Tuesdays and Slightly Indulgent Tuesdays.
And Real Food Wednesdays.