Here is a delicious new recipe for you! In this pancake recipe I have used Oats (Avena sativa) instead of a refined flour wheat flour, which is commonly used in pancake recipes.  According to traditional herbal medicine, Oats are described as having the actions of a nervine tonic, tonic and thymoleptic which are properties that tone and nourish the nervous system.  Nutritionally, oats are rich in soluble fibre as well as nutrients such as calcium, potassium, phosphorous, iron, manganese, zinc; Vitamins A, B-complex, C, E and amino acids.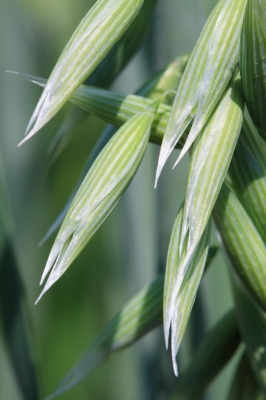 Above: Oats in the wild. 
In this oat pancake recipe I've used whole rolled oats but you might like to try using whole oat grains instead. If you do the later, please note the tips I've added in the recipe on how to do so.  Alternatively you can use quinoa flakes instead of rolled oats. This recipe also uses the fermentation of a sourdough starter to help break down anti-nutrients in the oats such as phytate as well as making the oats more nutritious and easy to digest. For more on fermentation have a read of the post by Helen Padarin.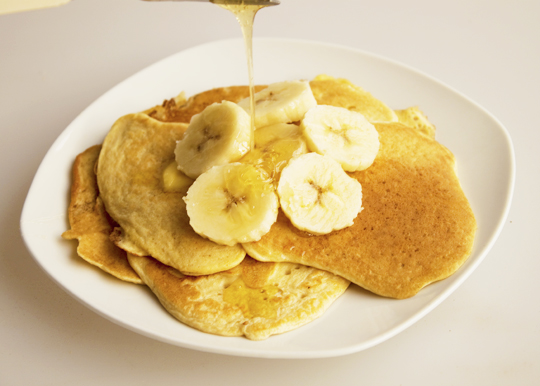 Above: I served my pancakes with fresh sliced banana and a bit of honey. 
Recipe: Sourdough Oat Pancakes

Recipe info/allergen info: This recipe may not be suitable for those with Celiac Disease or for those who are on gluten-free diets. This is suitable for those who follow a lacto-ovo vegetarian diet.

Ingredients:

1 C. whole rolled oats (or whole oat grain) (or quinoa flakes)
Enough water/milk to just cover the oats (some will be absorbed but that's okay)
1 tbsp. sourdough starter (if kept in the fridge, leave it on the counter for a while to come to room temperature)
2 eggs
milk (any kind you like)
coconut oil or butter
Fruit to serve

How to:

This recipe needs to be started at least a few hours before you want to make it (i.e. the night before) in order for the oats to have a good enough time to ferment.

Fermentation: Place the whole rolled oats (or whole oat grain) in a bowl and cover with enough milk or water to absorb and cover the oats. Stir in the sourdough starter into the oat-water/milk mixture until it is well mixed. Put a tea towel over the bowl, leave it on the counter and leave this to ferment overnight. Note: the whole oats may not absorb as much water as rolled oats so perhaps
Adding the rest of the ingredients: The next day the water/milk  should hopefully be all absorbed. Add this mixture into a blender along with 2 eggs and blend.
Now a few tablespoons at a time, add enough milk (You want enough milk to turn the pancake mixture into the consistency of pouring cream) into the blender & then blend.
Now it's time to cook: Heat some butter in pain. When it's melted, spoon about a few tablespoons or so of the pancake mixture onto the pan and cook until the pancake bubbles a bit (see below), flip over and cook on the other side until golden. Repeat this with the rest of the batter.
Serve with any fruit you desire and enjoy!
[Photo credit: Image: kibsri / FreeDigitalPhotos.net]
[Photo credit 2: HealthFoodLover]