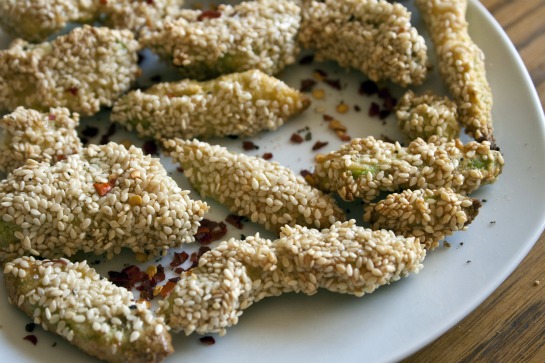 Recipe: Sesame-Crusted Avocado Wedges

Serves: 2-3

Allergen info: This recipe contains almonds, eggs and sesame seeds. It is dairy-free.

Ingredients:

2 avocados, peeled and pitted
1/2 C. – 1 C (or as needed) almond meal
1-2 raw eggs, beaten
~1/2 C- 1 C (or as needed) white sesame seeds
salt and pepper, to taste
~ 1 tbsp. melted ghee or coconut oil
~1 tsp. toasted sesame oil
dried chilli flakes, to taste (optional)

How to:

Pre-heat oven to 180 degrees Celsius.
Peel the avocados and remove the pits. slice the avocados into wedge-like pieces.
Coat each avocado piece in almond meal. then place them aside.
Beat the egg(s) and dip each avo wedge into the beaten eggs, letting excess drip off.
Coat each avocado piece in the sesame seeds and place each piece on either an oiled piece of aluminium foil or on a wire rack over a baking tray.
Bake the avocado pieces until their coating has turned a light golden brown. Sprinkle a small amount of salt and pepper on them (or to taste).
Sprinkle a few chilli flakes on them (if you desire) and a few drops of toasted sesame oil.
Enjoy!

Note: feel free to add any other spices or herbs that you like into the almond meal and/or sesame seeds to alter the flavour of the avocado wedges.
© Copyright: 2011 Michelle Robson-Garth. Please ask permission first when using any text or images on healthfoodlover.com . See the disclaimer here. Have a look at the recipe index for more health food lovin' recipes.