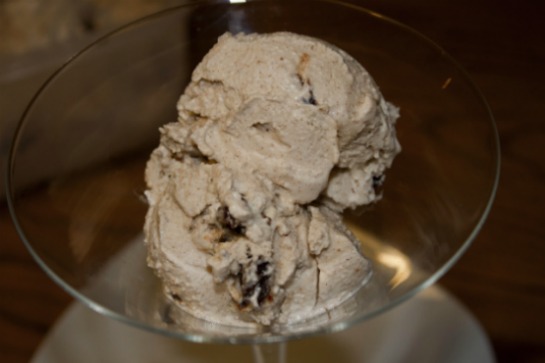 Recipe: Creamy Cashew, Almond and Date Ice Cream

Serves: 4-5

Allergen info: This recipe is dairy-free, egg-free and refined sugar-free. It contains almonds and cashews so those with tree nut and seed allergies may wish to avoid this recipe. It contains quite a bit of fat from the cashews and almonds (though mostly unsaturated) and coconut oil, so those who have a poor tolerance for fats may wish to skip this recipe.

Ingredients:

350g raw cashews
50g raw almonds (peeled)
10 dates pitted, chopped or 3/4 C. maple syrup (or sweeten to your liking)
1 tsp. vanilla extract (or the seeds of 1 scraped vanilla bean)
filtered water
2 Tb. coconut oil
1 Tb. lecithin (non-gm soy lecithin or sunflower lecithin granules)
filtered water, extra
~5 dates, pitted, chopped into roughly 1cm x 1cm pieces

How to:

Add the cashews, almonds and 10 dates in a bowl  of filtered water to soak for a few hours (or overnight if you want to prepare this earlier)
Blend the coconut oil, lecithin and water until creamy and the lecithin and coconut oil have dissolved.
Add the cashews, almonds, 10 dates and vanilla extract to the blender and blend until smooth and creamy. Add more water if needed. Note: it should be the consistency of thin cream or yoghurt.
Pour into your ice cream maker and follow the manufacturers directions. While it is churning add the chopped and pitted dates.
or
Enjoy!
Want some more foodie ideas to beat the heat? Have a look at these recipes:
Quick and Easy Raspberry Ice Cream
Refreshing and Zesty Green Smoothie
© Copyright: 2011 Michelle Robson-Garth. Please ask permission first when using any text or images on healthfoodlover.com . See the disclaimer here.