Sorry I haven't been posting many recipes lately, I'm still so busy prepping for exams. I'm studying to be a Naturopath (I'm undertaking a Bachelor of Health Sciences)…just in case you don't know.
E-Book Update
In my 'spare' time I'm working on my e-book which I'm so exited to get it out to you all (I'm hoping it be ready around early next year). I will have heaps of tips on healthy eating, 'how-tos' and tutorials and delicious nourishing recipes! This books is going to equip you with all you need know to become a
health food lover
!
Banana, Bluberry and Chocolate Ice Cream
(Gluten Free, Sugar Free, Dairy Free, Vegan, Nutrient-Rich, Delicious-YES!)
I made this delicious ice cream about two weeks ago, I was going to post it earlier but I've been so busy! I hope you enjoy it! This ice cream is really quick and easy.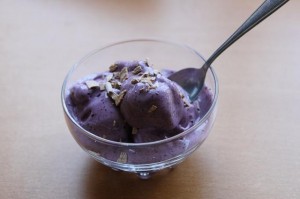 Ingredients:
3-4 rock-hard frozen bananas,
frozen blueberries*, about a handful
cacao powder or carob powder
cacao nibs or chocolate chips, optional 
Directions
Simply add frozen bananas and berries into a food processor and process until thick and creamy. Add cacao and mix again.
Serve with cacao nibs or chocolate chips if desired.
*raspberries or another berry fruit would be wonderful as well.
Enjoy!
Fermented Foods eBook Giveaway
This week announced that one of my lucky readers will WIN the "Nourish-ed Guide To Fermenting Foods" by Aussie Naturopaths Helen Padarin and Heidi East! It's really easy to enter and anyone in the world (as long as you have an email address) can enter! Click here to enter now.
In happiness and health,
–Michelle