Here at healthfoodlover.com I try my best to present delicious recipes that you will want to eat and that are really good for you too! So I thought I would share a little story of how I helped to influence a family member to love sauerkraut, a very beneficial fermented food! 
I'm not a mother, but I am a big sister to two younger sisters, one much younger and the other only 18th months younger.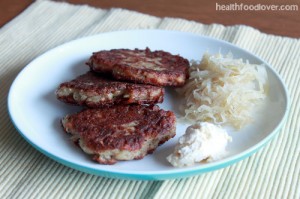 One day I presented my youngest sister with a baked potato with bacon, butter, sour cream and…sauerkraut. And she ate it! I was shocked!
Why did she eat it just like that? Well I just told her it was sauerkratut. I didn't tell her of it's health benefits. I didn't tell her of the all the good bugs swarming around and I certainly didn't tell her it was fermented.
Since I presented it to her just as real food, not as something that is 'healthy', I believe she was able love it without thinking of it as something 'healthy' (and "gross"), and I think the other foods I served it with also made it taste extra special. Not everyone wants to know if something is healthy*, but they do want to know if it tastes good.
She has since told me that she "actually really likes sauerkraut" and more recently she told me she "loves it", which I am very happy about!
I feel confident that I'm slowly turning my family into health food lover's, one bite at a time!
-Michelle.
Nb: That doesn't mean we shouldn't tell people something is healthy, we should tell them, it all depends on the person. Whether or not telling them it will be healthy or not will influence their decision to eat certain food or not.
We all have different ways of helping to positively influencing our loved ones with good healthy habits. I would love to hear your stories on how you do that in the comment section below!