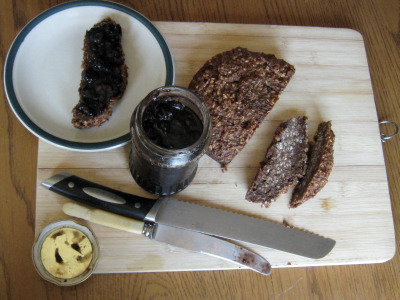 Elderberry & Blueberry Jam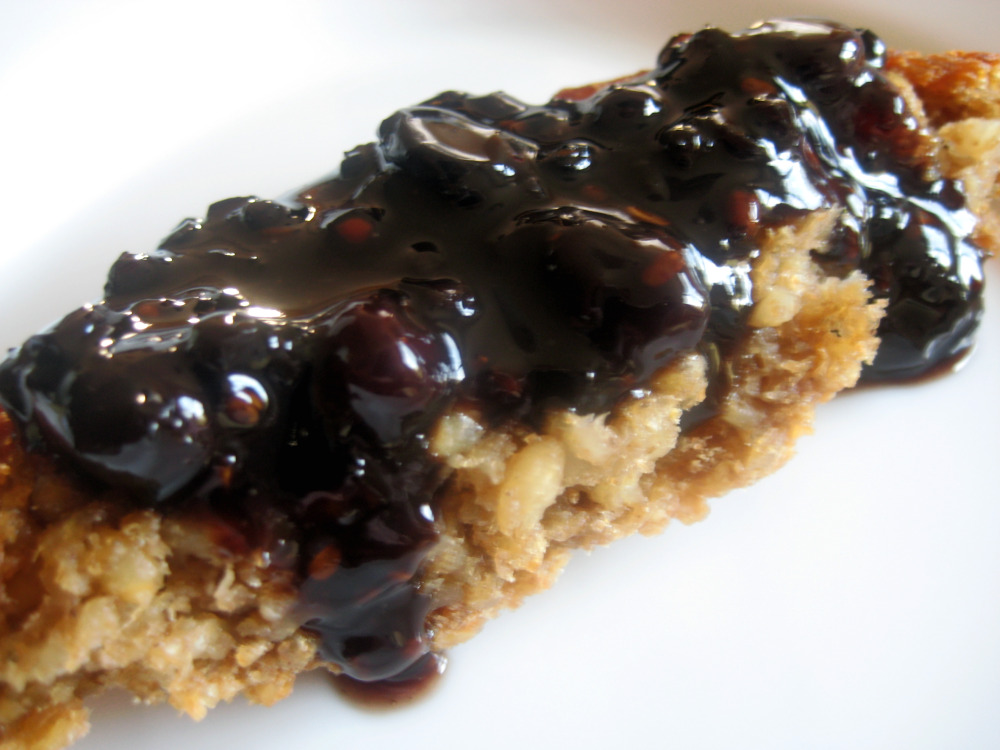 How to make Elderberry & Blueberry Jam:
Ingredients:

1/2 cup of elderberries fresh or dried (If using dried soak the elderberries in some warm water till soft)
1 cup of blueberries fresh or frozen (If frozen leave them out to thaw for about 10 minutes before using)
1/4 cup of water (you can use some of the soaking water if you soaked the elderberries)
1/2 cup of whole cane rapadura sugar
1 tbsp. agar agar powder or 2 kanten bars

Simmer the elderberries, bluberries, water and sugar, until sugar is dissolved and mixture starts to reduce. Crush the agar into some cold water-leave to set for a few minutes- make sure it is completely dissolved (lumps of agar in jar is not very nice). Add the agar to simmering berries etc. Simmer for around half an hour until it becomes thick and jam-like. Once thick mash the mixture a bit till most of the berries are mashed, but some are still whole. Pour your hot jam in sterilsed jars and place in the fridge or use straight away.

Tip: Sterilise your jars by placing some hot water in the bottom of the jar and then placing the jar in the microwave (with the lid off!) for 2 minutes on high. Alternatively you can place them in the oven or boil them in water. Be careful when you take the jar out as it will be very hot!
Spelt Essene Bread
Making Essene Bread can be a little tricky at first, but it is really quite easy to make, especially if you have sprouted grains or seeds before.
To Sprout Spelt:
Place your spelt in a jar or bowl filled with double the amount of water to grain. Soak this for12 hours or overnight. In the morning or after the 12 hours, rinse the grain in a colander.

Now every 8 hours rinse the grain with water (or spray the water with water from a spray bottle to keep the grains in good condition to sprout). Mix the grains around a bit so all the grains get some water. Keep rinsing or spraying the grain every 8 hours for 2-3 days and you should begin to see little sprouts. When the sprouts have become 1/3- 1/2 length of the grain, its time to make your essene bread.

Note:
To Make your Essene Bread:
Yield: 1 loaf of bread.

Preheat your oven to 150 degrees celsius.

Grind your sprouted spelt in a food processor until it begins to clump together and almost form a dough. Take the mixture out and make a bread shaped ball with it. Oil a crock pot or bread tin and place the mixture into the the container to be cooked.

Cook your bread on a very low setting for 2-3 hours until the outside is firm to the touch and does not bounce back. Or you can cook your bread in a dehydrator for alot longer on an even lower setting for about 6 hours.

Notes:

This will not rise like traditional bread (unless you add a sourdough starter to it in which case it will help it to rise.
This bread also has a very dense texture much like banana bread and is a slightly moist bread. 
To aid cutting the bread use a serated knife and run it under water just before cutting.
This bread is great toasted or eaten as is.
This was submitted to Food Renegade's Fight Back Fridays January 29th 2010.
This was submitted to Real Food Wednesday Feb 3rd 2010